ECE Alumnus Hobie Cohen makes 3D-printed face shields for hospitals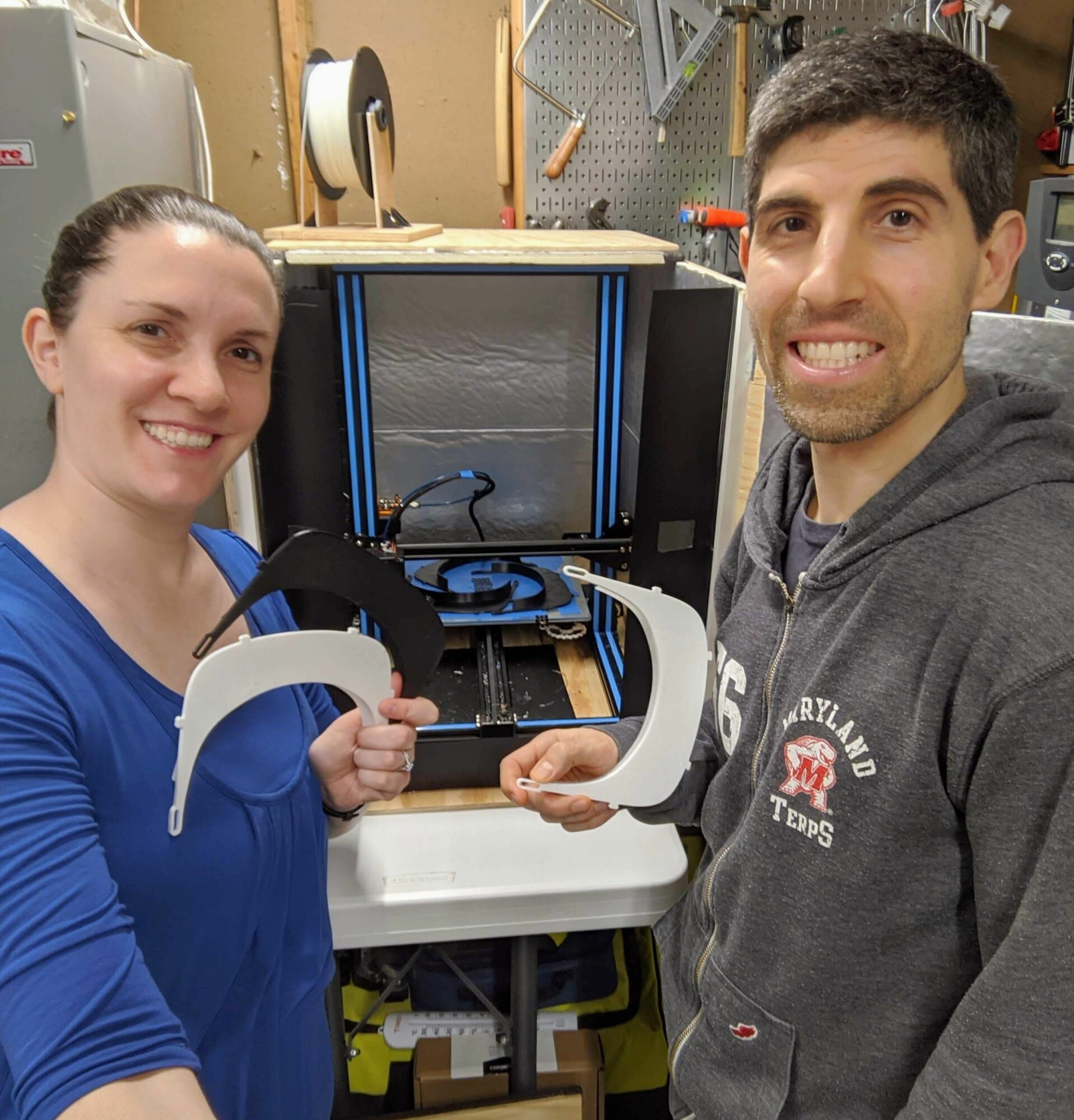 A Montgomery County, MD couple recently founded DMV Fighting COVID, an organization that creates and assembles face shields using 3D printed components to distribute to organizations in need of personal protective equipment (PPE).
Hobie Cohen (electrical engineering, '04), a systems engineer with Lockheed Martin, and his wife, Alicia, began producing face shields at home in March to help the community. Their mission started out as a simple idea – Hobie had read a number of articles about 3D printers being used to produce PPE. "With my job flexibility in being able to work from home and Alicia's job as a full-time mom, we felt so blessed to be essentially unimpacted by the growing pandemic around us," says Hobie. "Rather than just watch from the sidelines, I wondered if I could put our own 3D printer to work to protect frontline heroes in some way."
He began by contacting hospitals in the area to see if workers could use 3D printed face masks. A doctor at Holy Cross Hospital in Silver Spring, MD said what they really needed was face shields, so Hobie worked with the doctor to approve materials and a design that would meet the requirements for the Holy Cross Hospital System. After several iterations, they settled on a design made of a 3D printed head piece, a 3-hole punched plastic report cover for the shield, and non-latex rubber bands to hold the face shield securely in place.
Although Hobie's original intention was just to produce a few face shields by himself, he says he quickly realized the magnitude of the problem when the doctor asked for 2,650 face shields. The design was ready, but in order to produce face shields quickly enough, Alicia took to media outlets, social media, and started a GoFundMe to encourage support for the cause. Thanks to an immediate flood of volunteers and donations, they were able to donate the full order of face shields in two and half weeks.
Since then, their team has grown to more than 20 volunteers, donated over 7,000 face shields, and has been able to supply PPE to 24 organizations across the country. They have also expanded into creating cloth masks and 3D printed door openers.
"We feel called by God to do whatever we can to help other people and improve their lives in some way," Hobie says. "We're blown away by the tremendous community support we've received thus far, and we're grateful to the frontline heroes who are putting their lives on the line everyday to protect the rest of us."
Visit dmvfightingcovid.com to learn more about their mission and to consider donating or volunteering with the organization.
Published July 22, 2020