Wallace Steps Down as Gemstone Director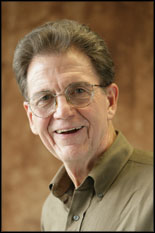 Clark School Professor Jim Wallace (mechanical engineering) is stepping down as director of the Gemstone Program in the UMD Honors College after leading it for 11 years. He will be replaced by Frank J. Coale (environmental science and technology).
In addition to leading the Gemstone Program, Wallace helped found the Science, Technology and Society section of the College Park Scholars Program. He is the board chair of the Burgers Program for Fluid Dynamics. He has been a mechanical engineering faculty member since 1975. Prior to that, he was on the research staff of the Max-Planck-Institut für Strömungsforschung in Göttingen, Germany.
The Gemstone Program is a unique multidisciplinary four-year research program for selected undergraduate honors students of all majors, conceived by former Clark School Dean William Destler. Under guidance of faculty mentors and Gemstone staff, teams of students design, direct and conduct significant research, often but not exclusively exploring the interdependence of science and technology with society.
Published July 20, 2012