New Faculty Hire Interested in Wildfire Behavior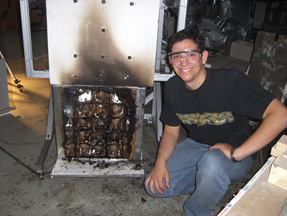 Michael Gollner will join the Clark School Department of Fire Protection Engineering this fall as a new assistant professor.
Gollner recently graduated from the University of California, San Diego, with a Ph.D. in mechanical engineering, concentrating on combustion and fluid dynamics. His previous research, working with his advisor Forman A. Williams, investigated an approach to commodity flammability ranking in warehouses and the propagation of fires through industrial, wildland and built environments. This work was performed in collaboration with Prof. Ali Rangwala from Worcester Polytechnic Institute, utilizing facilities from both institutions. Gollner's current research interests include material flammability, flame spread, boundary layer combustion and sustainability in the built environment. He investigates these topics using experimental and theoretical techniques to elucidate important physics in these problems, applying these results to practical applications relevant to wildfires and fires in the built environment.
Gollner recently received the International Association for Fire Safety Science's best poster and best fire science image awards at the organization's 2011 symposium at the University of Maryland and also was awarded the 2010 Chancellor's Award for Sustainability from the University of California, San Diego, for his work on renewable energy funding for solar PV installations throughout San Diego County. He has also appeared on William Shatner's "Weird or What" television series where he performed room fire testing for the TV series. Gollner previously worked with Schirmer Engineering (now AON Fire Protection Engineering) in San Diego, Calif. His work there included two projects for the Fire Protection Research Foundation. He holds a B.S. (2008), M.S. (2010) and Ph.D. (2012) in mechanical engineering from the University of California, San Diego.
"Dr. Gollner will complement and strengthen our existing faculty with his comprehensive set of capabilities relative to the analysis of the fire properties of materials and with his interest in wildland fires, an important area of work," stated Jim Milke, chair of the Clark School's Department of Fire Protection Engineering. "In addition, his experience at Schirmer and his interest in practical applications will make him an invaluable instructor in our applied courses."
Published July 23, 2012