UMD Team Takes a Top Spot in NASA RASC-AL Design Competition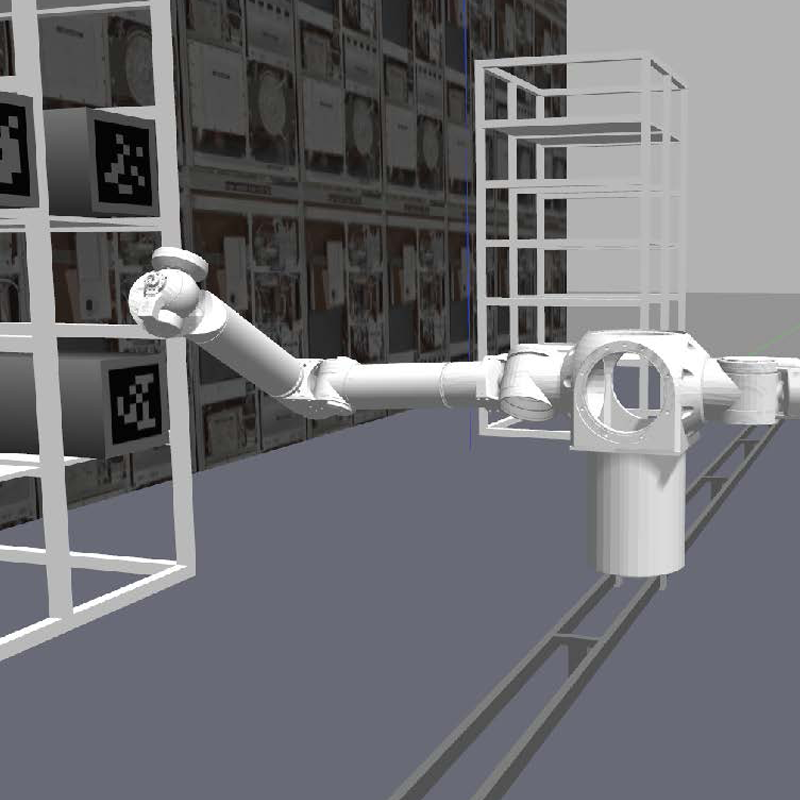 A University of Maryland (UMD) team took a top spot in this year's NASA 2020 Revolutionary Aerospace Systems Concepts – Academic Linkage (RASC-AL) competition. UMD's Team ASTRO entry, "Robotic Habitat Technologies for Minimizing Crew Maintenance Requirements," took first place in the theme "Autonomous Utilization and Maintenance for Gateway and/or Mars-class Transportation."
The RASC-AL competition is an annual university-level engineering design challenge that allows students to work on real-world challenges and provide innovative solutions that could advance human exploration of space.
This year's challenge focused on developing new concepts applicable to NASA's Artemis program. Themes ranged from designing systems and architectures for exploring the Moon and Mars to envisioning how astronauts will best take advantage of existing and future assets as they venture far from earth.
Mentored by aerospace engineering faculty Drs. David Akin and Mary Bowden, Team ASTRO's project involved the development of a robotic maintenance system for the Lunar Gateway Station to free up crew time and capacity to perform other vital tasks such as scientific experiments and station operations. In addition, the system could be used to maintain the station when no crew are aboard.
Their proposed system is a teleoperated two-arm dexterous robot based on the Ranger TSX system from UMD's Space Systems Laboratory, which has already been NASA, certified for space flight. The robot uses a rail system for mobility in the station and a visual imaging system—AprilTags—for positioning and task identification.
The team comprised of juniors—from multiple majors—in the Gemstone Honors Program, included Rachel Cueva, Rachel Harvey, Peter Mnev, Rachel Broemmelsiek, Micah Calderwood, Jaime Callejon Hierro, Scott Holmes, Imran Khawaja, William Keyman, Wilson Orlando, Jessica Queen, Micah Shenk-Evans and Thomas Skinner.
Akin and students from the A. James Clark Department of Aerospace Engineering have been competing in the RASC-AL competition since 2003, and have taken top spots fourteen times since then. This year marked the first year that four different UMD teams participated in the competition.
The other three UMD teams, based out of Aerospace Engineering's Space Systems capstone design course (ENAE484), included:
"Katabasis: To Mars and Back, a Short Stay Mars Mission"
Faculty Advisor: Dr. Jarred Young
Category: Short Stay Mars Mission Theme
"TerradigmOrbital's SHELLS: Satellite Health and Equipment Life Lengthening System"
Faculty Advisor: Dr. Andrew Becnel
Category: Commercial Cislunar Space Development Theme
"EXPLORER: Exploration Polar Lunar Operational Rover"
Faculty Advisor: Dr. David Akin
Category: South Pole Multi-Purpose Rover Theme
Normally held at the RASC-AL Forum in Cocoa Beach, Fl., this year's event went virtual due to COVID-19.
"We've long been proud that the RASC-AL forum provides a unique opportunity for students to collaborate and compete in a similar way to how businesses work in the real world," remarked Pat Troutman, human exploration strategic analysis lead at NASA's Langley Research Center in a NASA press release. "This year was even more remarkable as our finalists rose to the challenge of the public health crisis just as real businesses have had to do–by taking advantage of modern communication technologies to advance and share their best ideas."
You can check out all of the teams' work at: http://rascal.nianet.org/rascal-archives/2020-virtual-forum-teams/.
Published June 25, 2020