NASA Selects Hartzell for Mission to Asteroid Bennu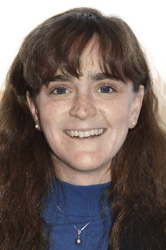 Christine Hartzell, assistant professor in the A. James Clark School of Engineering's Department of Aerospace Engineering, is one of 13 participating scientists selected by NASA for the agency's first asteroid sample return mission, OSIRIS-REx (Origins, Spectral Interpretation, Resource Identification, and Security – Regolith Explorer).
The goal of the OSIRIS-REx Participating Scientist Program is to enhance the scientific return during the asteroid-operational phase of the mission by expanding participation in the mission through new investigations that broaden and/or complement existing investigations. The participating scientists will become science team members during their three-year tenure with the mission.
OSIRIS-REx launched September 8, 2016, from Cape Canaveral, Florida. It's currently on a seven-year journey to rendezvous with, study, and return a sample of Bennu to Earth. This sample of a primitive asteroid will help scientists understand the formation of our solar system more than 4.5 billion years ago.
The spacecraft will arrive at Bennu in August 2018, and begin surveying the surface.
Click here to read the NASA announcement.
Published January 5, 2018