Kim Building to be Featured at Conference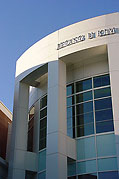 Bright yellow exposed steel girders, a glass-walled elevator shaft, two types of gleaming internal bridges stretching high over an atrium. At the
Jeong H. Kim Engineering Building
, the new and innovative facility within the University of Maryland's A. James Clark School of Engineering, you'll find a specialized environment where construction elements are deliberately left accessible for students to study and test.
"If you look up in our north atrium and see students jumping up and down on our internal bridges," explains Dr. William Fourney, the Clark School's associate dean and director of facilities and professor and chair of its aerospace engineering department, "they're not just having fun. They're measuring the bridges' ability to withstand strain. This building is designed not only to contain laboratories, but to be a laboratory, where engineering students can see, touch and interact with the materials and systems they learn about in the classroom."
Students can study the exposed, color-coded pipes (red for the sprinkler system), follow the maze of heating and air ducts visible behind ceiling panels, and observe the placement of the massive beams supporting the two-story curved staircase. They can test the different types of glass used in the windows. They can measure the vibration of trucks passing by on the street outside, and monitor and control heating and cooling. Meanwhile, all around them, other students will be hard at work in more than 20 advanced laboratories devoted to nanotechnology, bioengineering, advanced transportation systems, space exploration—a wide range of engineering fields purposely put together to encourage cross-disciplinary thinking and interaction across typical departmental boundaries.
The facility's building-as-laboratory concept will be featured at this month's 17th Annual Academic Science Buildings Conference in St. Petersburg, Fla., on Dec. 12-13. Dr. Fourney will present the Kim Building as a cost-effective facility with solutions for diverse and constantly evolving technical programs and for teaching within cleanrooms and other technically sensitive areas.
The architectural firms Oudens+Knoop (Chevy Chase, Md.) and SmithGroup (Washington, D.C.) designed the Kim Engineering Building.
Published October 19, 2005