Gabriel Co-Director of MEPP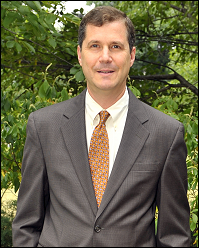 Prof. Steven Gabriel has been named the new co-director of the University of Maryland Master of Engineering and Public Policy (MEPP) Program.
MEPP is a partnership between the School of Public Policy and the Clark School of Engineering. The program, which produces engineers trained to understand and guide public policy on technical matters, is defined not according to traditional engineering disciplines, but according to six application areas: energy, environment, infrastructure, international development, national security and bioengineering. Graduates work in both corporate and government organizations.
"Gabriel is already involved in energy, environment, and infrastructure issues, including their modeling—all areas of importance and interest to MEPP students," said Clark School Dean Darryll Pines. "He believes in MEPP's societal importance and its potential for producing outstanding graduates who can achieve their intellectual and professional goals."
Gabriel has frequently worked on proposals with MEPP's other co-director, Prof. Matthias Ruth in the School of Public Policy. He has been an expert panelist for the Department of Energy Energy Information Administration and National Technology Laboratory, providing guidance on building an international natural gas model as well as evaluation of their fossil energy programs. Gabriel also has been a guest researcher at the Energy Research Center of the Netherlands in Amsterdam, assisting with building certain aspects of their European natural gas market model.
As a MEPP faculty member, Gabriel is already involved with students through his classes and as a mentor. Pines stated that MEPP students suggested Gabriel for the position.
Gabriel is an associate professor in the Department of Civil and Environmental Engineering at the Clark School, with additional appointments in the Applied Mathematics and Scientific Computation Program. He is on the faculty of the Clark School's project management program. He has experience in both mathematical modeling as well as algorithm design in a variety of engineering and economic areas such as energy, the environment, transportation and telecommunications. In addition to his academic background, he has over 25 years' experience in industry.
Prior to joining the University of Maryland in 2000, he held positions at ICF Consulting, Argonne National Laboratory, Arthur D. Little, Inc., and other companies. He has an M.S. in operations research from Stanford University and an M.A. and Ph.D. in mathematical sciences from Johns Hopkins University.
Published July 23, 2009