Fischell Shows Students How to Succeed in Biomedical Device Design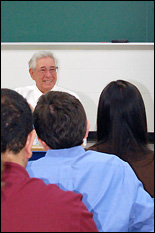 "I can't imagine a better life than being a bioengineer who makes lives better."
Bioengineering department benefactor and namesake Dr. Robert E. Fischell discussed the challenges and rewards of biomedical device design with the Class of 2011 in a recent senior Capstone Design lecture.
In his talk, "Engineering for Humanity, Fun and Profit," Fischell described his personal take on engineering and entrepreneurship, stressing that "humanity, fun and profit" are in his opinion the correct order in which bioengineers should approach their research. He discussed the history and approval process of several of the products he has created with his colleagues and his sons, including the drug eluting Svelte coronary stent; the AngelMed Guardian, an implant that detects the early warning signs of a heart attack; Neuropace, a transcranial magnetic stimulation implant used to treat epilepsy; and the Neuralieve, a handheld device capable of canceling a migraine headache before it can fully develop.
Fischell described biomedical device entrepreneurship as a very challenging field, particularly in the United States, which has stringent rules for the approval of any new product, and where venture capitalists who might fund the development of new technology are increasingly reluctant to do so as a result.
"The faint of heart should not apply," he advised.
Fischell outlined the six requirements he applies to his own ideas when determining whether they should be developed into products. A prospective device, he says, must be good for the patient, serve a large and growing population, be implantable using technology and procedures already familiar to surgeons, make money for the prescribing physicians, increase the net income of hospitals, and save money for the healthcare system.
Despite the difficulties, he explained, he would never give up his path. "I can't imagine a better life than being a bioengineer who makes lives better," he told the audience.
Video of Dr. Fischell's lecture is available online:
Published October 14, 2010