Clark School Leads "Microsystems Mechanics" Center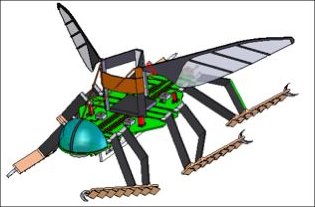 The Army Research Laboratory has selected the Clark School to lead a Micro Autonomous Science and Technology (MAST) Collaborative Technology Alliance (CTA) Center on "Microsystems Mechanics."
The total amount of the initial award is $10 million over 5 years with an option for another five years. The Clark School is one of four principal members of the MAST CTA Center. Each principal member leads one of four research areas: Microsystem Mechanics (Clark School, University of Maryland), Microsystems Integration (BAE Systems), Microelectronics (University of Michigan), and Processing for Autonomous Operation (University of Pennsylvania). BAE Systems is the overall lead for the MAST program.
The five general members are the University of California at Berkeley, California Institute of Technology, North Carolina A&T State University, the University of New Mexico and the Georgia Institute of Technology. Also participating are two small businesses -- Centeye Corporation and Daedalus Flight Systems, Inc.
Inderjit Chopra, director of the Alfred Gessow Rotorcraft Center (AGRC) at the Clark School, will lead the project, along with Assistant Professor J. Sean Humbert, who will serve as the projectís co-director.
The goal of the center is to enhance soldiers' tactical situational awareness in urban and complex terrain by enabling autonomously operating, networked micro-vehicles that crawl and fly.
"A networked swarm of such vehicles can coordinate through sensing, communication and mobility to form a virtual "super-organism" composed of a number of flying and crawling vehicles that can penetrate any structure and find targets of interest," said Darryll Pines, professor and chair of the Clark School's Department of Aerospace Engineering.
Such a swarm could aid in the searches of buildings and caves and also assist in perimeter defense, Pines said. Soldiers can gain situational understanding of an environment by deploying the networked vehicles into the area instead of, or in advance of, themselves.
"A critical element of the program is to examine the interplay between the technology areas, not just individual technologies," noted Joseph Mait, ARL Cooperative Agreement Manager. "The program is therefore highly collaborative with each partner, government, academia, and industry playing a significant role."
Ten Clark School faculty members, including James Baeder, Chris Cadou, Roberto Celi, James Hubbard, J. Sean Humbert, Greg Jackson, J. Gordon Leishman, Ben Shapiro, Elisabeth Smela and Norman Wereley, and three senior scientists, will work on the research. Fifteen graduate students will be supported by the program.
More Information:
Clark School Microsystems Mechanics Center web site
BAE Systems promotional video about the project.
Published March 25, 2008