Chuang Earns Intel Achievement Award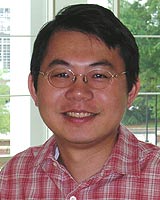 ECE alumnus
Wen-Hsien Chuang
, Ph.D. '05, has received an Intel Achievement Award (IAA), the greatest honor an employee can achieve at Intel.
The IAA awards recognize the very finest individual or team accomplishments at Intel Corporation.
Wen-Hsien received the award as part of the Technology and Manufacturing Group, whose team members were recognized for the development of innovative silicon diagnostic solutions.
Wen-Hsien, a former advisee of Prof. Reza Ghodssi (ECE/ISR/NanoCenter), joined Intel after graduating in the summer of 2005.
Published March 11, 2008