Hannam One of 65 Truman Scholars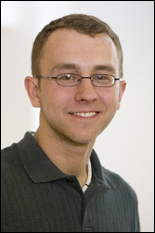 Clark School junior Phillip Hannam has been awarded a Truman Scholarship, the Harry S. Truman Scholarship Foundation announced this week. Before speaking to a group of prospective students and parents, Hannam was given the news by University of Maryland President C.D. Mote, Jr.
"The University is very proud that Phillip Hannam has been selected as a Truman Scholar," said Mote. "He is a talented young man who has demonstrated commitment to public service through his leadership in the Maryland chapter of Engineers Without Borders. His qualifications fit perfectly with the goals of the Truman Scholars program."
Hannam is one of 65 students from 55 U.S. colleges and universities selected on the basis of leadership potential, intellectual ability, and likelihood of 'making a difference.' Truman Scholars are chosen by a selection panel, which typically include a university president, a federal judge, a distinguished public servant and a past Truman Scholar.
The $30,000 merit-based scholarship is presented each year to college juniors, from across the country, who have demonstrated outstanding leadership and wish to attend graduate school in preparation for careers in government or public service.
Hannam, a mechanical engineering major in the A. James Clark School of Engineering, has been an active member of Engineers Without Borders (led by Prof. Deborah Goodings of civil engineering) since his freshman year and currently serves as the project leader for work in Burkina Faso to install solar-powered water pumps.
He is also a member of the Gemstone Program, a multidisciplinary four-year research program for selected undergraduate honors students of all majors. Hannam, through several student groups, has also worked to raise awareness of climate change and clean energy on campus. After graduating from Maryland in 2009, he plans to pursue dual master's degrees in mechanical engineering and public policy.
"To be selected amongst some of the finest aspiring public servants in the country is an immense honor," said Hannam. "Meeting fellow leaders throughout the Truman process gives me faith in our collective ability to overcome challenges, while also giving me faith in my own abilities. I am forever thankful to my friends and family for their support and guidance."
As part of the Truman Scholarship, students receive leadership training, graduate school counseling, preferential admission and merit-based aid to premier graduate institutions, and internship opportunities with federal agencies. Truman Scholars are required to work in public service for three of the seven years following completion of a graduate degree program.
Hannam will be recognized at an awards ceremony in May at the Harry S. Truman Library in Independence, Mo.
The National Scholarships Office at the University is overseen by Scott Wolpert, associate dean of undergraduate studies and a Distinguished Scholar Teacher in mathematics. Prof. Joe Oppenheimer (government and politics) is the UM Truman representative.
Published March 26, 2008