CALCE Honors CECD 20th Anniversary, Past Collaborations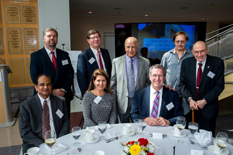 The Center for Engineering Concepts Development (CECD) recently celebrated its 20th anniversary, and members of the Center of Advanced Life Cycle Engineering (CALCE) joined the commemoration ceremony in honor of the two centers' long and productive history. During the event, CECD Director Professor Davinder Anand was honored by guest speakers, including U.S. Senator Chris Van Hollen, former Maryland State Senator Thomas Middleton, and Professor Michael Pecht.
CALCE and CECD have had an active collaboration in the research and publication of books on the topics of electronics materials, waste and the social impact of engineering. These books are important and relevant beyond just the engineering world, including business communities, historians, and social scientists.
Professor Pecht has contributed to several CECD publications in recent years, including the following:
Energetics Science & Technology in China provides a comprehensive history of energetics in China and summarizes current energetic materials research conducted around the world.
Rare Earth Materials: Insights and Concerns was the first look at the key issues surrounding the potential impact of having and not having access to critical materials, for making key products ranging from magnetics, to next generation vehicles.
Engineering for Social Change shows the strong need for understanding the unintended consequences of engineering decisions, the need for a global perspective when working and producing a product or service, the value of engineers engaging in philanthropic and non-profit activities as well as those in the for-profit world, and the need for well-rounded global engineers who understand where and how technological solutions and innovations can both help and harm us.
Most recently published, The True Cost of Waste: Current Issues in Electronic Waste offers insights into multiple aspects of our growing global electronic waste crisis, and how we can prepare for the future as hundreds of millions of electronic products are disposed of each year.
For more information on partnerships in publications and research, please contact Professor Michael Pecht or Professor Davinder Anand and Dylan Hazelwood at CECD.
Published May 27, 2019