Alumnus Wheatley Earns IEEE Pioneer Award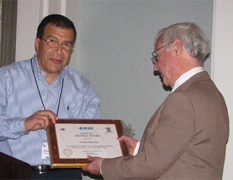 Alumnus C. Frank Wheatley has been elected an Institute for Electrical and Electronics Engineers (IEEE) Pioneer, one of the highest honors that can be bestowed upon IEEE members, to recognize his significant and transformative impact on the field of power electronics. He was presented with the award at the 23rd International Symposium on Power Semiconductor Devices & ICs on May 24, 2011 in San Diego. Wheatley was the first to receive the Pioneer Award in the Power Division of the IEEE in its 23 years of existence.

Wheatley, a World War II veteran, graduated from the University of Maryland in 1951 with a B.S. in electrical engineering. He has been issued 58 U.S. patents, published more than 150 professional papers, presented 44 papers at IEEE conventions, domestically and abroad, and has received many awards. These include three from RCA, several from Harris Corporation, five from IEEE, the University of Maryland Engineering Centennial Medal and induction into the Clark School's Innovation Hall of Fame. He is known for his seminal patent in 1982 of the insulated gate bipolar transistor (IGBT), an electronic device that led to worldwide sales of the IGBT that are currently estimated to be worth over $2 billion per year.

Wheatley joined RCA in July 1951, and achieved many firsts while designing solid state circuits and devices. He designed two noteworthy all-transistor circuits during the early 1960s including the auto radio and the high fidelity stereo amplifier. In early 1968, Wheatley designed an integrated circuit (IC) to control self-detonation of land mines. In 1978, he and a colleague developed a power IC process and an operational amplifier upon a single die, which delivered 50 watts of sine wave power. A two-terminal all-electronic temperature sensor and a thermally ballasted bipolar transistor are also among his inventions. 



Wheatley retired from RCA in 1987, having served 36 years. At the time, he was manager of the Rad Hard Power and Advanced Device Design Group. He continued his work as a consultant to GE, Harris, Intersil and Fairchild, who were successor owners of the RCA Solid State Power Division. Wheatley served as an expert witness in the U.S., Germany and Japan in the field of power transistors. Wheatley was elected into the Electronics Design Magazine Hall of Fame in 2010.

Wheatley was featured in the most recent E@M magazine (Spring 2011 issue, p. 29) for reuniting with his friend and former roommate, fellow alumnus George Laurer (B.S. '51, electrical engineering), at the October 2010 Innovation Hall of Fame induction of Robert Briskman.
Published June 6, 2011