2019 Engie Fellowship Recipients Named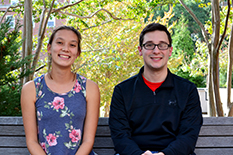 Mechanical Engineering graduate student James Tancabel and Materials Science Engineering graduate student Adelaide Mei Chun Nolan have been named the 2019 recipients of the Engie North America Chuck Edwards Memorial Fellowships.
These fellowships support students performing research in the areas of waste heat utilization in oil and gas industry (gas liquefaction), carbon dioxide sequestration using waste heat, absorption technology for solar cooling applications and waste heat utilization applications, as well as modeling for Small Autonomous Energy System design and optimization and small capacity combined heat and power (CHP) system laboratory performance. The fellowships of $25,000 each help to fund the students' research.
Nolan's project, "Thermodynamic guidance for interface engineering in an LLZO all-solid-state lithium-ion battery," aims to understand the thermodynamic requirements for engineering stable interfaces in an all-solid-state battery based on the solid electrolyte Li7La3Zr2O12, or LLZO.
Solid-state batteries use a solid electrolyte, such as LLZO, instead of the organic liquid electrolyte currently used in most lithium-ion batteries today. The issue with LLZO is that it has stability problems with high voltage cathodes and the Li metal anode, which cause poor performance or failure of the battery.
"All solid-state batteries have the potential to be safer and have higher energy density," Nolan explained. "I plan to use first-principles calculations to establish a theoretical understanding of this instability, and based on my results establish processing parameters or coating layers that could stabilize the interface."
Tancabel's project, "Design of High Performance Air-to-Refrigerant Heat Exchangers with Reduced Charge," focuses on design optimization of high performance, reduced charge air-to-refrigerant heat exchangers for applications ranging from car radiators to household air conditioning systems.
Since 2002, Engie (Trigen-Cinergy Solutions as it was then named) has awarded fellowships at the University of Maryland through a fund created to support energy conversion education and research at the A. James Clark School of Engineering. In 2014, the fellowship was renamed the GDF-Suez Chuck Edwards Memorial Fellowship to honor the memory of Mr. Chuck Edwards, the late general manager at GDF Suez Energy North America and long-time fellowship benefactor.
The fellowship provides financial support to fund students' research and graduate assistant positions. A faculty committee selects students based on academic merit, recommendations and alignment of research goals in the area of energy conversion systems and related technology.
Published October 2, 2019