UPDATED 5:15 PM EST, MAY 13: Clark School Human-Powered Helicopter Flies
University of Maryland's "Gamera" Takes Flight, Achieves World Record with Female Pilot Aboard
FOR IMMEDIATE RELEASE May 12, 2011
CONTACT:
Melissa Corley
301 405 6501
mcorley@umd.edu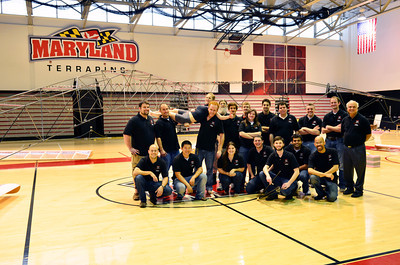 UPDATE 5:15 PM EST, MAY 13: The Clark School expects to receive word on certification early next week and will issue a complete release at that time. Meanwhile, interested parties may obtain information at the website of the Clark School's Alfred Gessow Rotorcraft Center.
VIDEO: http://vid.umd.edu/detsmediasite/Play/4aebbc2872ee4e5a9b6b9f375bb8b8bc1d COLLEGE PARK, Md.--A team of more than 50 students at the University of Maryland's A. James Clark School of Engineering has succeeded in flying their human-powered helicopter, Gamera. Pilot Judy Wexler, a 24-year-old biology graduate student at UM, pedaled furiously, taking the craft several inches into the air for about 4 seconds, setting a world record for human-powered helicopter flight with a female pilot. The National Aeronautical Assocation (NAA) must still review the video, which should happen by Friday morning, before they will announce the official results. An official statement from Clark School Dean Darryll Pines will be coming later this evening or tomorrow morning, along with pictures and video. Kristan Maynard, a judge from the NAA, announced that the flight looked successful, but that official verification will require viewing the video, which will likely occur by tomorrow morning. At that time, high-definition video also will be made available on our web site. Low-definition video will become available as soon as possible this evening. For updates, additional statements, photos and video, please refer back to this page. Follow the Clark School on Twitter (@ClarkSchool) for further updates. View video of the record-setting attempt here: http://vid.umd.edu/detsmediasite/Play/4aebbc2872ee4e5a9b6b9f375bb8b8bc1d ------------------- OFFICIAL STATEMENT FROM CLARK SCHOOL DEAN DARRYLL PINES: "On May 12, 2011 at approximately 5:30pm, in the auxiliary gym of the Comcast Center on the campus of the University of Maryland, the human-powered helicopter Gamera, designed and built by graduate and undergraduate students of the A. James Clark School of Engineering and piloted by biology student Judy Wexler, achieved unofficial lift-off of 3-5 inches and hover time of approximately 4 to 6 seconds. Kris Maynard, the judge from the National Aeronautics Association, announced that the flight looked successful, but that official certification will require viewing of video footage, which will likely occur on the morning of May 13. You may see flight video here. According to Mr. Maynard, no previous human-powered helicopter flight has been certified. Thus, if the Gamera flight is certified, the vehicle will be the first in history to do so. Even if not certified, the Gamera flight will be the first to be piloted by a woman. This is a major accomplishment for the Clark School of Engineering and its fantastic faculty, staff and students. I am incredibly proud of this amazing feat of engineering and physical prowess, and grateful to faculty mentors Drs. Inderjit Chopra, V.T. Nagaraj, and J. Gordon Leishman. Today's flight of Gamera is a fitting symbol of our excellence in rotorcraft research and education, and our first step toward winning the Sikorsky Prize. For more information, see the Alfred Gessow Rotorcraft Center website." -------------------- More Information: Original advisory Gamera Test Flight Home
About the A. James Clark School of Engineering
The University of Maryland's A. James Clark School of Engineering is a premier program, ranked among the top 20 in the world. Located just a few miles from Washington, D.C., the Clark School is at the center of a constellation of high-tech companies and federal laboratories, offering students and faculty access to unique professional opportunities.
Our broad spectrum of academic programs, including the world's only accredited undergraduate fire protection engineering program, is complemented by a vibrant entrepreneurial ecosystem, early hands-on educational experiences, and participation in national and international competitions.
The Clark School is leading research advancements in aerospace, bioengineering, robotics, nanotechnology, disaster resilience, energy and sustainability, and cybersecurity. From the universal product code to satellite radio, SMS text messaging to the implantable insulin pump, our students, faculty, and alumni are engineering life-changing innovations for millions. Learn more at www.eng.umd.edu.