Vishkin Wins Supercomputing NSF Grant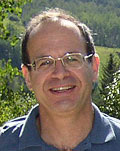 Professor
Uzi Vishkin
(ECE/UMIACS) is co-Principal Investigator (PI) for a National Science Foundation (NSF) grant that will support his research, titled
"Design and Tools for Easy-to-Program Massively Parallel On-Chip Systems: Deriving Scalability through Asynchrony."
The grant, worth nearly $1 million, was one of only two large-scale team proposals awarded by NSF in the "Design Automation for Micro and Nano Systems" area for its Computing Processes and Artifacts (CPA) program. The grant is joint with Steven M. Nowick, professor of computer science and electrical engineering at Columbia University, an expert in asynchronous computing.
The researchers are engaged in new parallel processing technology aimed at improving scalability and power consumption in the next generation of computers. Commercial manufacturers are currently focused on increasing the number of processors, or cores, that fit on a single computer chip, but power consumption represents a significant obstacle to continued advances. Vishkin and Nowick plan to create a new hybrid computing system that is partly asynchronous, or clockless, for implementation in an easy-to-program and easy-to-teach multi-core, parallel architecture. Their goal is to build a robust and adaptive asynchronous mesh — unlike current standard industry approaches, which are typically based on a single global clock rate. This innovation will allow easy modular integration of cores and memories operating at different clock rates. This new model is expected to require significantly lower power, and could push the level of scalability beyond what is currently possible, promising a broad impact in supporting parallel applications.
Vishkin and Nowick will work together to develop CAD (computer-aided design) tools to support the design of this new high-speed asynchronous communication mesh, and will develop analysis tools to be applied to the entire parallel structure.
Prof. Vishkin has received international attention for his related parallel computing research, which included the development of a desktop supercomputing prototype capable of speeds 100 times faster than current desktops, representing a paradigm for the next generation of computers. In future devices, his XMT technology could include 1,000 processors on a chip the size of a fingernail. More information about Vishkin's new desktop supercomputer prototype and XMT technology can be found at http://www.ece.umd.edu/News/news_story.php?id=2289.
Published November 21, 2008