O'Malley Announces $250K Seed Capital Fund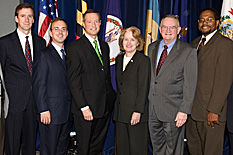 "This fund is an incentive for our most talented researchers and entrepreneurs to find man-made solutions to the man-made problems of our Bay."
The State of Maryland is supporting a new annual fund for startups with technologies that improve water quality in the Chesapeake Bay, Maryland Governor Martin O'Malley announced at a Chesapeake Executive Council Meeting in Washington, D.C., last month.
The Chesapeake Bay Seed Capital Fund, administered by the Maryland Technology Enterprise Institute, or Mtech, a unit of the Clark School, will invest $250,000 annually over a three-year period into Maryland-based startup companies with innovative technologies that may help improve water quality in the Chesapeake Bay. Fund recipients are jointly selected by Mtech and Maryland Department of Natural Resources staff.
"This fund is an incentive for our most talented researchers and entrepreneurs to find man-made solutions to the man-made problems of our Bay," says O'Malley. "Collectively we must continue to escalate efforts to improve the Chesapeake Bay watershed and reduce nutrient run-off as quickly as possible."
O'Malley also announced the first two Seed Capital Fund recipients: Zymetis Inc., receiving $100,000, and Traffax Inc., recipient of $50,000. The deals are pending final approval. An additional $100,000 is available this year for other companies.
Zymetis, a company in the Mtech Technology Advancement Program incubator, is a biotechnology company developing novel enzyme products to produce low-cost, high-yield ethanol from cellulosic biomass. The company's technology was developed by College of Chemical and Life Sciences professors Steve Hutcheson and Ron Weiner.
Founded in 2006, Zymetis entered the Mtech VentureAccelerator Program, which provides hands-on business assistance to faculty and students forming companies around university-created technologies. Zymetis also used Mtech's Bioprocess Scale-Up Facility staff to maximize its manufacturing processes. In 2007, Zymetis received a $112,000 Maryland Industrial Partnerships project award to further develop its product with cell biology and molecular genetics professor Jonathan Dinman.
The company is scheduled to conduct its first commercial-scale enzyme production run and its first trial producing ethanol with a commercial partner in December.
Traffax is a startup developing technology to monitor traffic patterns and travel times using Bluetooth technology. The company's patent-pending invention was developed at the university's Center for Advanced Transportation Technology by Stan Young, Phil Tarnoff, and Nick Ganig. Traffax entered the VentureAccelerator Program in summer 2008. The company won second place and $2,000 in the 2008 University of Maryland $50K Business Plan Competition. Traffax also received a MIPS project award for $135,000 to further develop its technology with civil and environmental engineering professor Ali Haghani.
Traffax's technology gives traffic engineers and planners the ability to monitor traffic with unprecedented accuracy and level of detail.
"This information is critical for adjusting and improving the flow of traffic, enabling engineers to optimize the timing of stoplights to ease congestion," says Stan Young, Traffax CEO. "Our technology greatly improves the quality of data delivered to commuters, allowing them to plan travel more efficiently and divert to alternate routes during incidents."
Traffax could help reduce water pollution by reducing air pollution.
"Up to a third of the nitrogen that enters the Bay comes from air deposition, and much of this comes from nitrogen oxides released from car traffic," says Chung. "If people can travel from point A to point B more quickly, emissions from cars are reduced."
For information and to apply for the fund, contact Jim Chung at (301) 314-7804, or jwchung@umd.edu.
Published December 2, 2008