Team Autocycle Wins Gemstone Honors Program Outstanding Team of the Year Award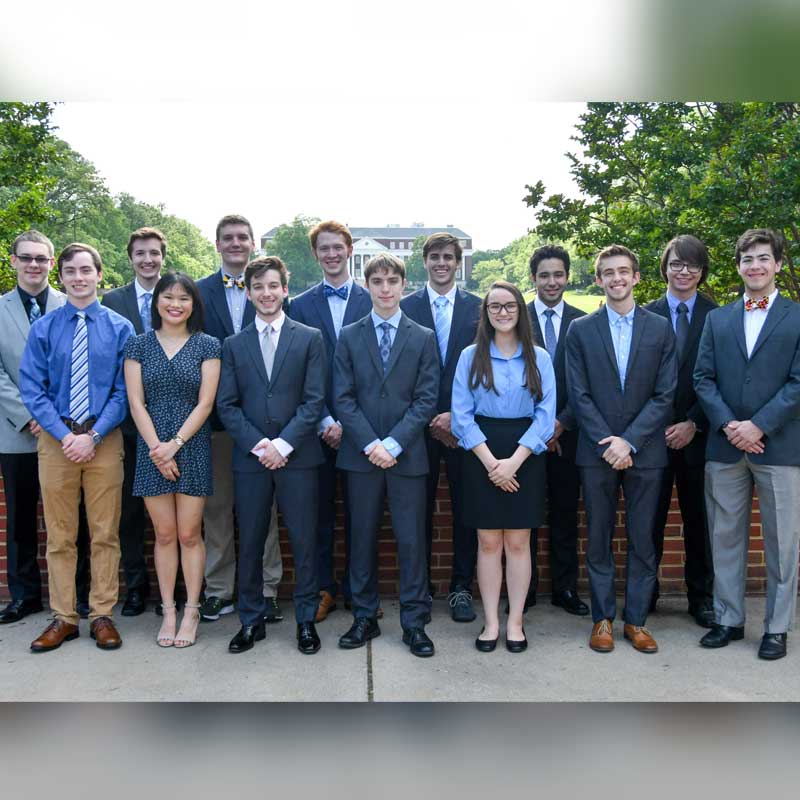 The University of Maryland (UMD) Gemstone Honors Program recognized Team Autocycle, a multi-disciplined team consisting of undergraduate students from a variety of majors, as the Outstanding Team of the Year.
Starting in the fall of 2019, Team Autocycle worked to develop a self-balancing and self-navigating bicycle. The team envisioned that an electric bike capable of autonomously navigating to a given location would be a valuable feature in bike sharing. Their prototype uses a small computer to intercept code from a mapping system and in turn retrieve the bike and deliver it to the next customer while microprocessors enable the bike to navigate and balance itself.
Team members include Michael Allen (Electrical Engineering), Jacob Bartolomei (Computer Science), Jeremy Carter (Mechanical Engineering), Cooper Grill (Mathematics and Computer Science, Sustainability Minor), Mikhail Khrenov (Mechanical Engineering and Computer Science), Jack Mirenzi (Mechanical Engineering), Joseph O'Leary (Mechanical Engineering), Isaac Rose (Aerospace Engineering), Evan Ruderman (Aerospace Engineering), Andoni Sanguesa (Computer Science), and Logan Swaisgood (Aerospace Engineering).
While the project was ambitious and difficult in itself, the pandemic made it nearly impossible. The team worked around the Covid-induced constraints by working in a member's garage and testing their bike at a nearby parking lot early on Saturday mornings before cars arrived. Their award accolade included: "they tested, repaired, tested and then tested some more."
Team mentor, Department of Electrical and Computer Engineering Professor Romel Gomez, was also honored with the Outstanding Mentor Award. Gomez has sponsored several programs dedicated to the development of electric bikes, and his dedication to this area is seen in his passion towards mentoring students. "There are small things in life that mean so much to me," said Gomez. "One of which is guiding young people to believe they can accomplish things far beyond what is expected."
The Gemstone Program is a multidisciplinary four-year research program for selected undergraduate Honors College students of all majors. Teams of students working with a mentor, design, direct and conduct research focused on challenges affecting both science and technology. Through participation in the program, students learn first-hand about the research, teamwork, communication and leadership skills needed to see a project through from start to finish.
Team Autocycle will be presenting their prototype at the American Society for Engineering Education Conference in June.
Published May 26, 2022