Student Spotlight: Helen Lan ('17)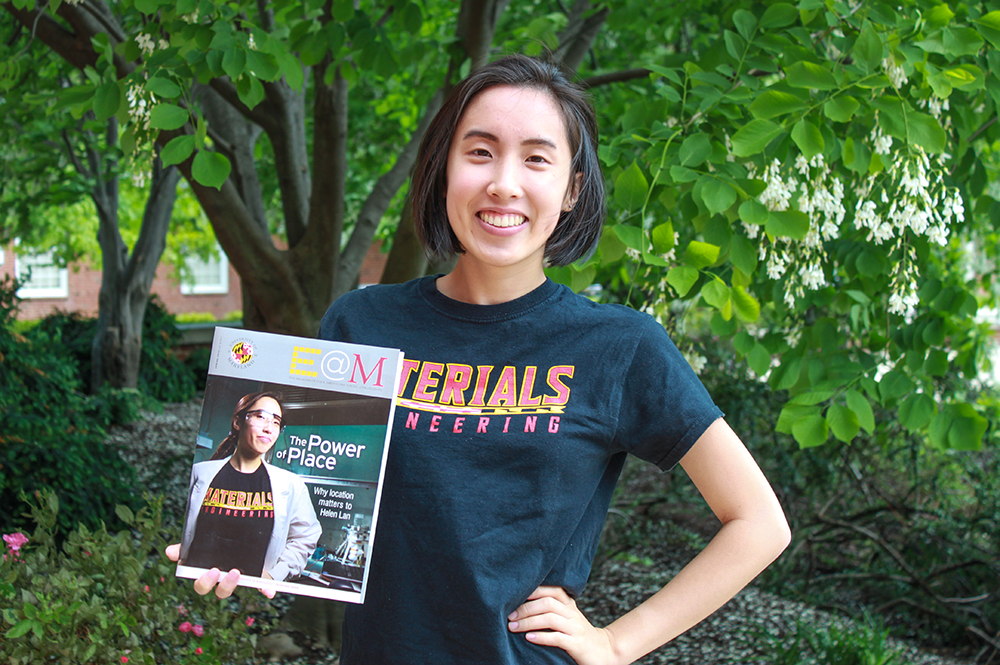 The girl on fire is still burning bright. Since she was highlighted in E@M magazine two years ago for her jet fuel burner innovation at her U.S. Army Research Laboratory (ARL) internship, Helen Lan's undergraduate career has continued to be filled with opportunities and achievements, and sparked by wanderlust.
Before Lan applied to the University of Maryland, she already had strong ties to the university. Growing up, Lan attended summer camps on campus that were sponsored by the UMD Materials Research Science and Engineering Center. Her experiences learning about the materials used in golf balls and baseballs ignited her interest in materials science as a career path. In the fall of 2013, Lan enrolled at UMD as a future materials science engineer and recipient of the Dean's Scholarship.
Shortly after her second summer internship in 2015 at ARL in Adelphi, Md., Lan jetted off to Norway on an exchange program as a recipient of the International Exchange Student scholarship to the Norwegian University of Science and Technology in Trondheim. A semester of taking master's level classes in energy, nanotechnology, and solar cells while traveling Europe molded her into a global citizen. Lan returned stateside incredibly impacted by her study abroad opportunity and bitten by the travel bug.
"Coming back, I felt like everybody should have that experience if they want to, so I volunteered at the study abroad fair and info sessions to help answer questions and explain that studying abroad is not super difficult and you can still graduate on time," Lan said. She also spent time working pre-departure orientations to prepare students for study abroad, and as an orientation advisor for incoming international students.
This past summer, Lan spiced things up interning at McCormick and Company working to make the milling process of black pepper more efficient. Her time and research proved that it was possible to pre-sort whole peppercorns by density, allowing for a more efficient milling and a consistent final product. Even after completing her internship, Lan's hard work is being applied to further research to determine how to execute her findings in production.
Lan is ending on nothing less than a strong note as her senior year is coming quickly to its close. For her last undergraduate year at UMD, she was a recipient of the GDF-SUEZ Chuck Edwards Memorial Scholarship and was recently honored with an award for her service in the international engineering community.
Her Capstone Design team is developing a carbon nanotube reinforced Kevlar fabric for wind turbine blades to be wrapped around a metal blade frame. The strength of the textile is comparable to fiberglass, but the carbon nanotubes reinforce the Kevlar making it stronger and more conductive. Additionally, fiberglass blades are susceptible to lightning damage, but the reinforced Kevlar showed no physical damage after the team's lightning tests. The focus of the capstone, however, is to make transportation of these blades safer and more cost efficient.
"With fiberglass blades, you have to transport them in one piece, blocking off highways, which is extremely expensive," she said. "Whereas with our design you could bring your materials with you on site and assemble it there, reducing transportation costs."
After graduation, Lan is set to take on the role as globe-trotter once again to explore eastern Europe before she starts work. Her job lined up with the Gates Corporation will have her living in Michigan and Colorado on a rotational program to help her get settled, but since the company and her assignments are international she hopes to be sent to work abroad in the future.
Reflecting on her undergraduate experience at UMD, Lan aims to give back down the road in outreach or service because of the support that she received. "The professors are doing great research, there's great opportunities, and the engineering school has their own career services – there's a lot of support for us," Lan said.
Published May 10, 2017