Sixth Annual Talent Competition Highlights Student Innovation in Regulatory Science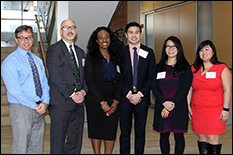 The body's immune system fights against infection and illness by identifying and attacking substances that invade the body and cause disease. This defense system is made up of a variety of different cells that work together to destroy foreign substances. One particular type of cells – known as T cells – plays a critical role in the war on cancer if they can be harnessed in their special ability to target invaders.
According to the American Cancer Society, chimeric antigen receptor-modified T-cell therapy – known as CAR T-cell therapy – is a promising new way to direct T cells to fight cancer by modifying T cells in the lab so that they express a specific antigen receptor that allows them to find and destroy cancer cells. Currently, there are two CAR T-cell therapies approved for use in the United States – but, there are few tools used to track the manufacture and distribution of CAR T-cell therapy, or to catalog adverse side effects of the individual therapy.
Recognizing this, University of Maryland School of Pharmacy students Nam Nguyen and Laetitia N'Dri have proposed a tool capable of capturing invaluable information about CAR T-cell and gene therapies from cell extraction, to the manufacturer, to the clinic, and to the patient.
Their tool, GeneTrack, earned them first place at this year's "America's Got Regulatory Science Talent" competition, hosted by the University of Maryland's Center of Excellence in Regulatory Science and Innovation (M-CERSI). The duo, advised by Dr. Million A. Tegenge of the U.S. Food and Drug Administration's (FDA) Center for Biologics Evaluation and Research, will have the chance to meet with staff at the FDA later this spring to further discuss their proposal.
GeneTrack would center on a publicly accessible database in compliance with HIPAA. The database would track the detailed manufacturing process of each individual CAR T-cell therapy and collect records of adverse events for each individual undergoing for that specific CAR T-therapy. The system would also consolidate patient electronic health records (EHR) using a unique GeneTracking number that would be linked to radio frequency identification (RFID) and/or near-field communication (NFC) technology for easy live tracking.
If a patient experiences any unexpected symptoms, a GeneTrack integrated MedWatch form would capture that information, allowing the manufacturer, clinicians, hospitals, and regulatory agencies to better understand potential adverse events of the individual therapy. In turn, if the product were damaged in any way post-production, one could report that information into the system to provide invaluable feedback to the manufacturer.
Because CAR T-therapy is very specialized and the patient experience of adverse events varies greatly, – Nguyen and N'Dri's system would prove invaluable to manufacturers, clinicians, and patients touched by CAR T-therapy.
"CAR T-cell therapy has a very complex manufacturing process," Nguyen said. "Currently, there is no universal tracking system that exists to help drug manufacturers, regulatory agencies, health care systems, and patients monitor the manufacturing and post-market distribution of these products – an important concern when one considers that the safety and effectiveness of these therapies depends on quality manufacturing. Our project intends to solve this concern by increasing the transparency and communication among stakeholders, and further streamlining the manufacturing process through our GeneTrack system."
"In terms of feasibility, this drug is last-line, and it costs approximately $400,000 for the patient – so, the cost of creating this database and creating the live tracking system are significantly less than the actual therapy," N'Dri said.
Both Nguyen and N'Dri noted that their work is driven by their desire to impact patient health care, particularly for those who have not responded to or have relapsed after undergoing initial treatment.
"While the didactic courses at the University of Maryland School of Pharmacy give students an overview of regulatory science, the 'America's Got Regulatory Science Talent' competition took me out of my comfort zone and demanded a tremendous amount of independent research and discipline," N'Dri said. "I was ready to take on that challenge because I believe that student pharmacists should take advantage of the plethora of interdisciplinary opportunities offered to them while in school. The competition is a phenomenal way to better understand the 'last-line' role that pharmacists play in the health and safety of patients' lives."
Four teams competed in the talent competition this year, with second place awarded to AlesiaRx, a team of three student pharmacists – Anna Dizik, Jordan Fraker, and Michelle Nguyen – who developed a technique to leverage artificial intelligence and diverse data to improve medication adherence among patients. The group was advised by Dr. Christopher St. Clair of the FDA's Center for Drug Evaluation and Research.
Two other groups presented proposals for modified instructional package inserts and instructional videos for inhalers, and new techniques to monitor blood sugar levels in diabetic patients.
Mimi Nguyen (FDA Center for Devices and Radiological Health), Oanh Dang, PharmD, (FDA Center for Drug Evaluation and Research), and Scott Winiecki, M.D., (FDA Center for Drug Evaluation and Research) served as judges for this year's event.
Published February 12, 2018