Real-time Transportation Data Can Improve Triage, Save Lives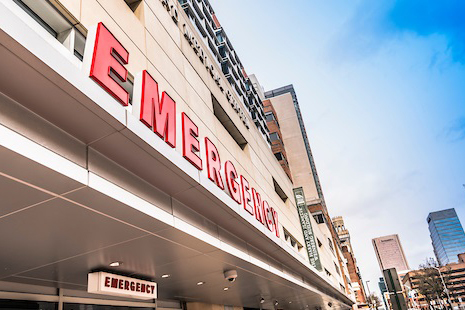 When a road accident occurs, many variables affect the outcome, including weather, speed, crash angle, and vehicle type. Being able to access information about these variables in real-time could help emergency personnel provide the needed care—and save lives.
A project being led by Chenfeng Xiong, assistant research professor at the University of Maryland, aims to make this possible.'
Xiong, who holds joint appointments at UMD and the University of Maryland School of Medicine's Center for Shock, Trauma, and Anesthesiology Research, is building an integrated platform that can pull together real-time crash data, along with data about weather, road conditions, and the vehicles involved, and enable emergency personnel to make quicker, more accurate determinations about the crash severity, the equipment and type of care needed, and the likelihood of critical injuries.
Xiong's platform combines data from mobile apps, vehicle systems, and highway sensors with information from hospitals—including data on injuries, treatment, and patient outcomes—as well as from weather services and the Center for Advanced Transportation Technology Lab's (CATT Lab) Regional Integrated Transportation Information System (RITIS). The data is then run through computer algorithms in order to generate metrics that can be used by medical personnel to assess cases.
"Let's say it's a rainy day and there's been a crash on I-95. Even before the police reach the crash scene, our model can calculate the likely severity and alert hospitals to the need for ICU beds and equipment," Xiong said. "First responders, meanwhile, can determine which nearby hospitals are best equipped to care for the patient, thus avoiding the risk of delays because of rerouting."
Xiong and his collaborators, including Rosemary Kozar of the Shock Trauma Anesthesiology Research (STAR) Center, have tested the approach and demonstrated that it can improve triage accuracy by more than 10%. For those involved in severe crashes, that could mean a higher chance of survivability. Many lives could be saved in Maryland alone, where around 100 fatal crashes occur each year, Xiong said.
Advances of this kind are particularly important because traffic accidents continue to be one of the leading causes of death nationwide, even as vehicles become safer and smarter.
"With some kinds of traffic fatalities, such as those involving pedestrians and bicyclists, we're actually seeing an increase," Xiong said. "We need to do all we can to reverse this trend, including by streamlining emergency processes and leveraging the benefits of big data."
Photo top left courtesy of the University of Maryland Medical System.
Published June 8, 2020