Prosthetics: A Better Fit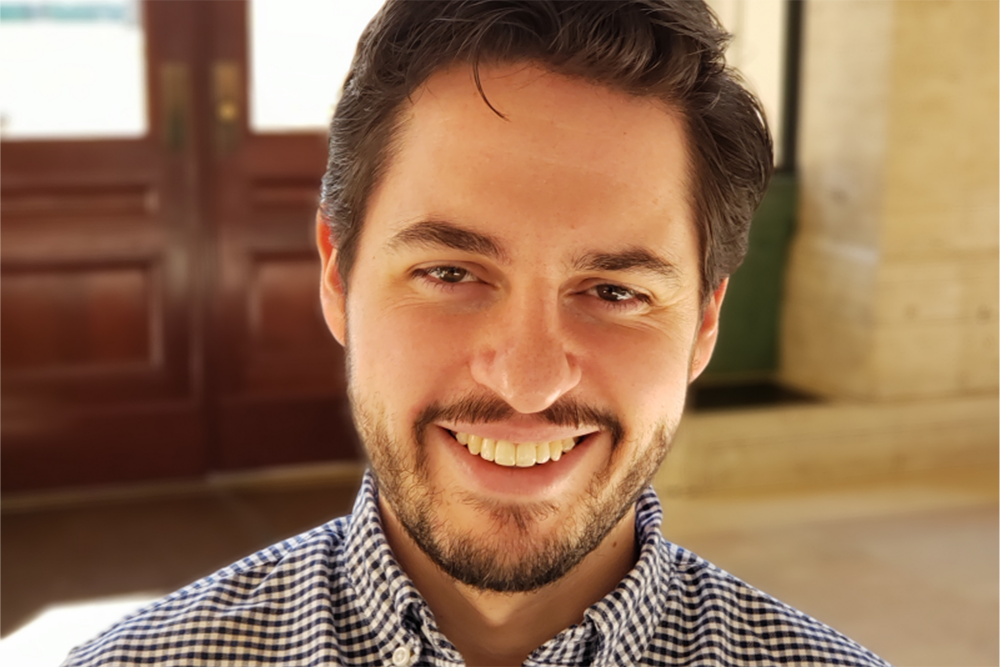 For those living with limb loss, prosthetics can be essential to mobility, independence, and quality of life. Until now, however, users have faced a lack of adjustability that makes it difficult to achieve an optimal fit—much less adjust the prosthetic over the course of the day.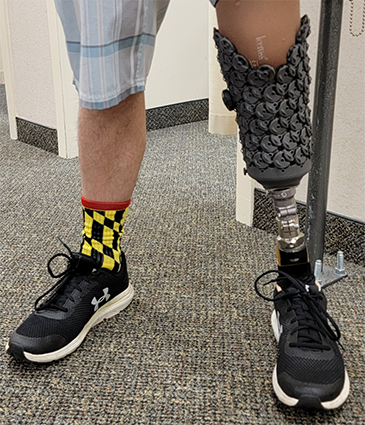 That's because prosthetics are attached using sockets, and the materials used to engineer these sockets are too rigid to accommodate large adjustments, according to UMD alumnus Jeffrey Gair, Jr. (Ph.D. 2017), who has pioneered a more adaptable alternative.
Gair and his company Modular Matter, Inc. have designed a prosthetic socket that utilizes mechanical metamaterials, which are human-engineered building blocks that can be manipulated and reconfigured with ease. The Modular Matter socket can grow and change along with the user, and can also be adjusted in case of short-term changes, such as those caused by swelling. It also has an integrated system to be quickly and easily adjusted by the wearer to suit their comfort.
While some adjustable sockets are presently on the market, they can cost as much as $30,000. By contrast, "our sockets will offer a much wider range of adjustability and reconfigurability," Gair said.
"The materials can be used to fit any patient on the spot rather than over the course of repeated office visits. And because the materials don't require expensive equipment or labor-intensive composite fabrication processes, it's around a tenth of the cost to manufacture a well-fitting socket."
As Modular Matter prepares to go to market with the new device, it is partnering with University of Maryland (UMD) mechanical engineering assistant professor Eleonora Tubaldi and Jae Kun Shim, a kinesiology professor at UMD's School of Public Health, to refine and test the socket. With support from a Maryland Industrial Partnerships (MIPS) grant, Tubaldi will use numerical methods and computer simulations to calibrate the specs, while Shim will run tests in which human subjects try on the prosthetic socket and provide feedback on fit and comfort.
Gair, who is also CEO of the research and development company Scinetics, Inc., earned his master's and doctoral degrees in mechanical engineering from UMD, and as an undergraduate—also at UMD—double-majored in bioengineering and biological sciences. In 2022, he was inducted into the inaugural class of the Early Career Distinguished Alumni Society at UMD.
He says the new, metamaterials-based approach can yield prostheses that are not only more comfortable to wear, but also more affordable.
"Such materials are inexpensive, mass-producible, and reconfigurable," he said. "This means that the materials can be used to fit any patient on the spot rather than over the course of repeated office visits. And because the materials don't require expensive equipment or labor-intensive composite fabrication processes, it's around a tenth of the cost to manufacture a well-fitting socket."
"While there are obvious benefits here at home, the technology could also be used in developing nations that lack access to large and expensive manufacturing equipment, such as autoclaves for curing composites," Gair said. "It's a game-changer in multiple ways."
Published January 27, 2023