Prestigious NAE Induction for Griffin, Baecher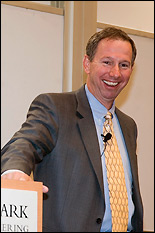 The National Academy of Engineering (NAE)
has inducted alumnus Michael Griffin, NASA administrator, and Professor Gregory Baecher, civil and environmental engineering.
The NAE cited Griffin, Ph.D. '77 aerospace engineering, for his technical leadership of flight experiments that led to the first quantitative measurements of space intercept physics.
Baecher was honored for the development, explication and implementation of probabilistic- and reliability-based approaches to geotechnical and water-resources engineering.
Election to the National Academy of Engineering is among the highest professional distinctions accorded to an engineer. Academy membership honors those who have made outstanding contributions to "engineering research, practice, or education, including, where appropriate, significant contributions to the engineering literature," and to the "pioneering of new and developing fields of technology, making major advancements in traditional fields of engineering, or developing/implementing innovative approaches to engineering education."
Past Clark School inductees into the NAE include alumnus and benefactor A. James Clark; alumnus, professor of practice and benefactor Jeong H. Kim; inventor and benefactor Robert Fischell; former dean and professor emeritus George Dieter; and University of Maryland President C.D. Mote, Jr., who is a Glenn L. Martin Institute Professor of Engineering.
Published February 15, 2006