Maryland Industrial Partnerships Program Awards $4.1 Million to 15 Maryland Industry/Academic Teams to Develop Technology Products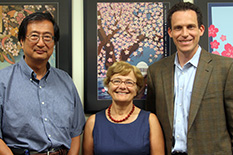 The Maryland Industrial Partnerships (MIPS) program, an initiative of the Maryland Technology Enterprise Institute (Mtech) in the A. James Clark School of Engineering at the University of Maryland, has approved 15 research projects worth $4.1 million to teams combining Maryland companies with state university researchers to bring technology products closer to market, program officials announce today.
A technology acceleration program, MIPS grants money—matched with company funds—to faculty engaged in each project.
For this round of funding, companies are contributing $2.8 million and MIPS $1.3 million to the jointly funded projects. The Maryland Department of Natural Resources and the Environmental Protection Agency provided additional funding.
This round of funding partners faculty with 11 startups, one medium-sized and three small companies. Four projects, the most ever for a single MIPS round, include companies from the Maryland Eastern Shore. Three involve oyster-farming technologies, eight are green technologies, and four could result in a cleaner Chesapeake Bay.
"MIPS is a great value for the State of Maryland and serves as a national model of how to leverage the intellectual power of our universities to drive innovation and the economy," said MIPS Director Joseph Naft. "The program attracts Maryland's entrepreneurs, enabling them to multiply their R&D efforts by engaging world-class faculty and graduate students to do real-world research. Take a step back and look at the $28.1 billion in revenue generated by MIPS-supported products, add in tax revenue, and you have a return on investment of 30 to 1. More than 5,000 current jobs have resulted from MIPS projects, many of them from big-impact companies such as MedImmune, Hughes Network Systems, Lockheed Martin and Northrop Grumman. MIPS is an example of how companies, academe and government can all work together to propel our state forward."
Winning projects, segmented by institution, include:
Frostburg State University
St. Mary's College of Maryland
Salisbury University
University of Maryland, Baltimore
University of Maryland Center for Environmental Science
University of Maryland, College Park
Projects are subject to final contract negotiations.
This is the 53rd round of MIPS grants. The program has supported research projects with more than 500 different Maryland companies since 1987.
Commercial products benefiting from MIPS have generated more than $28.1 billion in revenue, added more than 5,000 jobs to the region, and contributed to successful products such as Martek Biosciences' nutritional oils, Hughes Communications' HughesNet™, MedImmune's Synagis®, and Black & Decker's Bullet® Speed Tip Masonry Drill Bit, WellDoc's mobile diabetes management platform, and CSA Medical's diseased-tissue ablation platform.
For information about the historical economic impact of the MIPS program, an independent study titled "An Analysis of the Impacts of MIPS Program Spending and the Commercialization of MIPS Funded Projects on the State of Maryland," by Richard Clinch, from the Jacob France Institute at the University of Baltimore, is available online.
For select project photos, visit: http://www.mtech.umd.edu/news/press_releases/mips_r53_release.html
Published February 25, 2014