Fire Protection Team wins IAFSS Award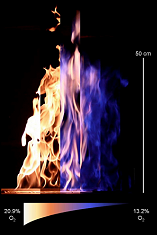 An image by a research team from the Department of Fire Protection Engineering (FPE) has garnered Best Fire Science Image Award at the 11th Symposium of the International Association of Fire Safety Science (IAFSS).
The image, titled Oxidizer Dilution Quenching of a Turbulent, Methane Line Flame, depicts flame response to decreasing oxygen concentration from ambient 20.9l% O2, to values as low as 13.2l% O2. With reducing oxygen concentration, flames transition from bright yellow to pale blue due to reduced flame temperature and inhibited soot production and incandescence.
The image was designed by PhD students James P. White (B.S. '11, M.S. '12), Eric D. Link (B.S. '12), and Taylor M. Myers (B.S. '12) with the help of their faculty advisors, Associate Professors Andre W. Marshall (FPE) and Peter B. Sunderland (FPE).
The flames in the image were produced using a novel experimental apparatus custom-designed and built within the FPE labs. The image was created as part of an ongoing research project studying the suppression of turbulent, buoyancy-dominated flames. This project is funded by NSF, FM Global, and United Technologies and aims to provide fundamental understanding and detailed measurements to support the development and validation of advanced fire suppression models.
The IAFSS Best Fire Science Image Award is awarded for originality, scientific significance, and artistic/aesthetic appeal. The IAFSS Symposium, held February 10-14 , 2014, at the University of Canterbury, New Zealand, is the premier fire safety science meeting in the world and has been organized triennially since 1985.
Published February 21, 2014