Marcus Selected as Poole and Kent Senior Faculty Teaching Award Recipient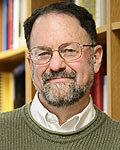 Director of Faculty Leadership in the office of the Associate Provost for Faculty Affairs and Professor of Electrical and Computer Engineering and the Institute for Systems Research Dr. Steve Marcus has been selected as this year's recipient of the annual Poole & Kent Company Teaching Award for senior faculty in the Clark School of Engineering. Dr. Marcus will be presented with a plaque and a cash award at the 2013 Clark School Spring Commencement on May 20, 2013.
Dr. Marcus is a highly valued educator, researcher and colleague. While he has served in a variety of capacities within the college and university, including Director of the Institute for Systems Research (ISR) and Chair of the Department of Electrical and Computer Engineering (ECE), he has also been a major contributor to the Clark School's Future Faculty Program. In this capacity he has educated and provided mentorship to hundreds of graduate students who aspire to become faculty members at research universities.
In both graduate and undergraduate courses, he is dedicated to his students and is committed to their learning, both inside and outside the classroom. He currently serves as Director of Faculty Leadership for the campus, developing strategies for mentorship of junior and senior faculty and for developing and supporting faculty leaders throughout the university.
"I am very pleased to congratulate Steve for this significant recognition of his outstanding teaching record in the Clark School," said Dean Dr. Darryll Pines.



Published May 13, 2013