Lewis Named Aerospace Chair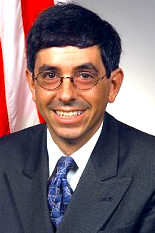 Professor Mark J. Lewis is the new chair of the Clark SchoolÂ's Department of Aerospace Engineering, effective September 14.
"The aerospace engineering department is in the midst of a period of exceptional progress," said Clark School Dean Darryll Pines. "With Mark's long experience in the department as researcher and teacher; his knowledge of faculty, staff and programs; his excellent working relationships with colleagues at major universities, government units and corporations; and his dedication to the highest achievement in aerospace engineering, he is well positioned to accelerate the departmentÂ's progress still further."
From 2004 to 2008, Lewis served as Chief Scientist of the U.S. Air Force, where he was the chief scientific adviser to the Chief of Staff and Secretary of the Air Force, and provided assessments on a wide range of scientific and technical issues affecting the Air Force mission. Lewis is also president-elect of the American Institute of Aeronautics and Astronautics (AIAA), the premier international professional society supporting aerospace engineering and related disciplines, and the Willis Young, Jr. Professor of Aerospace Engineering at the Clark School.
Lewis joined the faculty of the Clark School in August 1988. He has conducted basic and applied research in, and taught many aspects of, hypersonic aerodynamics, advanced propulsion, and space vehicle design and optimization. His work has spanned the aerospace flight spectrum, from the analysis of conventional jet engines to entry into planetary atmospheres at hypervelocity speeds. His research activities have contributed directly to several NASA and Department of Defense programs in the areas of high-speed vehicle and spacecraft design. Lewis was the founder of the Center for Hypersonics Education and Research, and later the NASA-Air Force Constellation University Institutes Project.
At the Massachusetts Institute of Technology, Lewis received two Bachelor of Science degrees (in aeronautics and astronautics and in earth and planetary science), and Master of Science and Doctor of Science degrees in aeronautics and astronautics. He is a fellow of the AIAA and the American Society of Mechanical Engineers, a PresidentÂ's Fellow of the Royal Aeronautical Society, and was named an aerospace Laureate by the editors of Aviation Week and Space Technology magazine for his pioneering efforts in promoting research and development of high-speed flight.
Lewis is the author of more than 280 technical publications and has been adviser to more than 70 graduate students. He is active in national and international professional societies, with responsibilities for both research and educational policy and support. In addition, he has served on various advisory boards for the Air Force and DoD, including the Air Force Scientific Advisory Board, where he participated in several summer studies and chaired a number of science and technology reviews of the Air Force Research Laboratory. He is an adjunct with the Institute for Defense Analysis.
The Clark School's Department of Aerospace Engineering just received its highest ranking ever (6th in the nation) in the recent U.S. News survey of undergraduate programs; it is ranked 9th in the graduate survey. In the last year, the department has seen an alumna, Jeanette Epps, selected as an astronaut candidate; a faculty member, Norman Wereley, selected as AIAA Engineer of the Year; and a host of student teams selected for top honors in numerous national and international competitions.
Published August 24, 2009