Jewell Named Controlled Release Society Fellow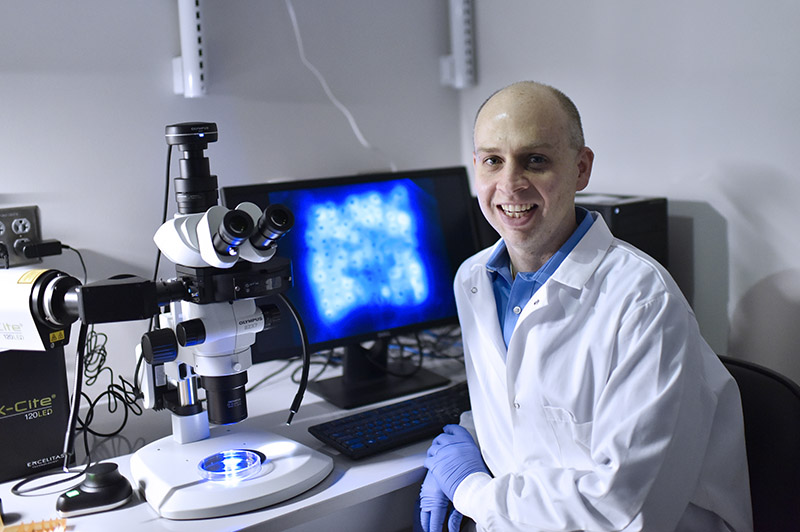 The Controlled Release Society College of Fellows announced this week that Fischell Department of Bioengineering Minta Martin Professor of Engineering Christopher M. Jewell has been elected to the College of Fellows.
CRS elevation to "Fellow" recognizes outstanding and sustained contributions to the field of delivery science and technology over a minimum of 10 years. CRS will formally celebrate this year's College of Fellows inductees during the society's annual meeting taking place July 11-15 in Montreal.
"This recognition is really special for me," Jewell said. "Not only is controlled release at the center of my work, but CRS is where I published my very first paper (Journal of Controlled Release), and also where I had the chance to interact with Professor Tsuneji Nagai – a pioneer in controlled release – through the CRS Postdoctoral Achievement Award. I am excited to be a Fellow and to continue pushing the field forward while training the next generation of controlled release and biomaterials experts."
Jewell is a University of Maryland (UMD) MPower Professor, a UMD Robert E. Fischell Institute for Biomedical Devices faculty member, and a Research Biologist with the U.S. Department of Veterans Affairs. In addition to the CRS, Jewell is a Fellow of the Biomedical Engineering Society (BMES), the American Institute for Medical and Biological Engineering (AIMBE), and the Alliance for Cancer Gene Therapy (ACGT).
In 2021, Jewell was named the Miegunyah Distinguished Faculty Fellow, at the University of Melbourne, Australia. His work has been supported by over $22 million in funding, resulting in more than 120 manuscripts and patents, including papers in ACS Nano, Cell Reports, Nature, Nature Biotechnology, Nature Materials, PNAS, Trends in Immunology, and others. Some of Jewell's awards include being honored by the White House as a recipient of the Presidential Early Career Award for Scientists and Engineers (PECASE), selection as a Damon Runyon-Rachleff Innovator, appointment as an Associate Scientific Advisor for Science Translational Medicine, receipt of the Outstanding Lectureship in Drug Delivery from the Materials Research Society, receipt of the NSEF Young Investigator Award from the American Institute of Chemical Engineers (AIChE), and selection as the University of Maryland's Graduate Faculty Mentor of the Year.
Jewell is also a past recipient of the CRS T. Nagai Postdoctoral Research Achievement Award and was named the state of Maryland's Outstanding Young Engineer by the Maryland Academy of Science, the state's highest honor for an engineer under 36.
Jewell graduated from Lehigh University in 2003 with high honors, earning dual degrees in chemical engineering and molecular biology. He received his Ph.D. in 2008 from the University of Wisconsin – Madison, working with Professor David Lynn. Jewell then joined the Boston Consulting Group in New York City, where he worked in R&D strategy with global pharmaceutical companies. He carried out his postdoctoral training as a Ragon Institute Fellow working with Dr. Darrell Irvine at MIT and as a Visiting Scientist at Harvard with Dr. Dan Barouch in the division of Vaccine Research.
Published April 19, 2022