GM Showcases Fuel Cell Vehicles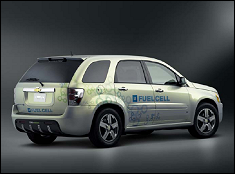 Earlier this month, representatives from General Motors presented two Chevrolet Equinoxes, hydrogen-fuel-cell-powered vehicles, on the plaza of the Kim Engineering Building.
Interested legal drivers were given the opportunity to test drive a vehicle and gain a sense of how General Motors fuel cell vehicles have arrived.
This promotion occurred in conjunction with the Hydrogen Seminar sponsored by Virginia Clean Cities and presented by Professors Greg Jackson (mechanical engineering) and Peter Sunderland (fire protection engineering). The seminar was a five-hour tutorial for industry and government officials to learn about hydrogen technology and to identify early market opportunities and applications for hydrogen power.
The Chevrolet Equinox Fuel Cell Electric Vehicle is a zero-gas, zero-emissions vehicle that has a range of approximately 160 miles per fill-up based on the new 2008 EPA adjusted measurement.
The fuel cell system fits within the space of the conventional engine compartment. The nickel-metal hydride battery pack, which stores energy from the regenerative braking system to increase operating efficiency and boost acceleration when needed, sits under the floor in the middle of the vehicle. Three compressed hydrogen storage tanks, made of carbon fiber for strength and pressurized to 10,000 pounds per square inch (psi), are located under the rear seats and cargo area. They contain roughly nine pounds (4.2 kg) of hydrogen.
The Chevrolet Equinox Fuel Cell Electric Vehicle is a part of "Project Driveway" the world's largest market test of fuel cell vehicles in three cities: New York, Los Angeles and Washington, D.C.
Published June 8, 2009