Evan Peaco Named 2017 NSCF Keynote Scholar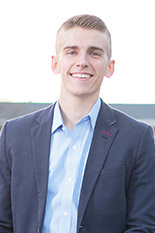 The National Space Club and Foundation (NSCF) selected Department of Aerospace Engineering junior Evan Peaco for their 2017 NSCF Keynote Scholarship. The $10,000 scholarship is aimed at supporting a student, from high school to graduate level, who intends to pursue a career in the Science, Technology, Engineering or Mathematics (STEM) fields, and is both academically strong and excels in public speaking.
More than 7,000 students applied for this year's award. As part of the review process, NSCF selects 110 initial finalists who are then required to submit short videos. Out of those submissions, a final round of six students were chosen for Skype interviews.
According to NSCF, "Peaco rose to the top of the competition with his strong academic record and experience in aerospace" as well as "his impressive list of honors and accomplishments includ[ing] being named a National Merit Scholar and receiving the school's prestigious Banneker/Key Scholarship."
Peaco, a Portland, Maine native, is in the Space systems track at Maryland and is in the Aerospace Engineering Honors Program. Outside of class, Peaco has held numerous student leadership positions, including Secretary of UMD's Rocketry Team, Treasurer of the Professional Greek Council on campus, and chair positions in his professional engineering fraternity, Theta Tau.
Peaco has also worked on campus as both a Teaching Fellow for Thermodynamics in the A. James Clark School of Engineering for three semesters, and an undergraduate researcher on composite material in UMD's Composites Research Lab.
In the future, Peaco intends to pursue a graduate degree in Aerospace Engineering and then continue working in the spaceflight industry with an eye towards advancing the world's manned spaceflight capabilities, particularly to Mars or the Moon.
In addition to the financial scholarship, as a NSCF Keynote Scholar, Peaco will present the keynote address at NSCF's Dr. Robert H. Goddard Memorial Dinner held March 10 in Washington, D.C.
The dinner, held around the anniversary of Dr. Goddard's first successful flight of a liquid-fueled rocket, brings together nearly 2,000 members of the government, industry and educational space community in celebration of individuals for accomplishments in spaceflight, engineering, science, management and education.
Published February 8, 2017