Clark School Wins CANSAT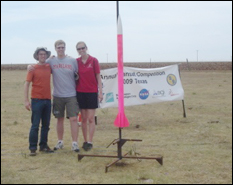 A team of Clark School aerospace engineering students has won the 2009 American Astronautical Society and American Institute of Aeronautics and Astronautics CANSAT competition in only their first year in the contest, topping a field of 18 schools from around the world.
The CANSAT competition allows students to design, build and test a rocket payload the size of an elongated coke can. The CANSAT mission this year was to develop an autonomous payload that would monitor its GPS position and altitude in flight and then take ground thermal data and transmit it back to a ground station for three hours after landing. The payload had to fit within a specified volume, descend at a given rate, remain intact and continue functioning after landing.
Besides designing a minimum weight structure and parachute system, the Clark School team also had built and tested electronics that included radios, a GPS unit, temperature sensors, batteries and a micro-processor - software also had to be developed to process and record data, transfer from flight to ground mode and respond to ground commands.
"The experience was tremendous—we all learned a lot about design choices and last minute decisions, as well as the value of persistence through all sorts of challenges," said Mary Bowden, team faculty advisor.
The Clark School's CanSat Team consisted of Dru Ellsberry (graduate student); Laura Meyer (junior and team leader); Jarred Young (senior); Kevin Davis and Samantha Lustig (juniors); Connie Ciarleglio and AK Hyder (sophomores); and Keith Burghardt (freshman) - all aerospace engineering students, most associated with the Clark School's Space Systems Lab and experienced in building small payloads that are launched on weather balloons. Dr. Bowden and her colleagues in the Space Systems Lab specialize in "balloonsats," small packages that fly on weather balloons to the upper reaches of the atmosphere ("near-space").
"This team of outstanding students was formed at the end of the fall semester and worked tirelessly through the spring to present professional quality design reviews and schedule updates and perform preliminary testing of subsystems," Bowden said. "This effort culminated in a four-day trip to Amarillo, Texas, where the final configuration was assembled, tested and flown, followed by a post-flight briefing on performance and data collected. Despite severe sleep deprivation and a number of setbacks, the team never settled for anything less than their best effort, and ultimately beat the competition by a significant margin!"
The term "cansat" refers to a satellite built in a (soda) can. The competition is meant to be an experience that simulates building a small scale satellite. The mission for this year, remote sensing, is applicable to a planetary probe that might be dropped on a planet or moon to monitor surface data (like temperatures) and transmit it back to a central relay station.
"We particularly want to thank the Maryland Space Grant Consortium not just for funding this project from the beginning but for helping us build over the years the infrastructure and expertise necessary to compete at a top level," Bowden said.
The Space System Lab and the aerospace engineering department provided lab space and equipment, overhead support and additional funding throughout.
The top five winners:
University of Maryland Black & Gold Team (113.01%)
University of Michigan THS (108.58%)
University of Alabama in Huntsville (106%)
Embry Riddle Aeronautical University 2 (100.5%)
Kapi'olani Community College (98.2%)
The other finishers, in rank order:
Ryerson University, Toronto Canada
University of Nebraska
International Institute of Information Technology, India
University of New Hampshire
Massachusetts Institute of Technology
Embry-Riddle Aeronautical University SCEPTER
University of Hawaii at Manoa
Virginia Polytechnic Institute and State University
Tecnologico de Monterrey Campus Puebla
Penn State University
Michigan Technological University
University of Michigan BSOM
Iowa State University
Published June 25, 2009