Clark School Alumnus Briskman Honored as Pioneering Technology Leader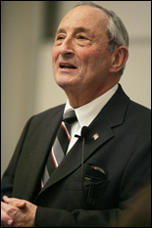 The Consumer Electronics Association has honored Clark School alumnus Robert Briskman (M.S. '61, electrical engineering), co-founder of Sirius Satellite Radio, as a pioneering leader in the consumer technology industry by inducting him into the Consumer Electronics Hall of Fame.
The distinction recognizes those who advance products and services that inform, educate, entertain and keep consumers connected. Inductees are selected by a panel of media and industry professionals. Hundreds of nominations are submitted each year by manufacturers, retailers and industry journalists.
Briskman is already an inductee of the Innovation Hall of Fame of Clark School, which honored him in 2010.
Briskman will officially be inducted into the Consumer Electronics Hall of Fame in a ceremony in October.
Published April 30, 2012