How Did They Do It?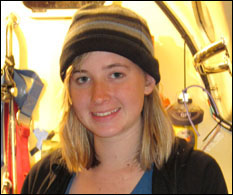 WHAT:
"Search and Rescue, War Reporting, Hurricane Tracking and Rock and Roll in the Satellite Age" – the 2010 Charles and Helen White Symposium on Engineering Innovation at the A. James Clark School of Engineering.
WHO: Speakers include:
Abby Sunderland: One of the youngest people to attempt to sail around the world, she was rescued through satellite technology when her ship dismasted in the Indian Ocean;
Jamie McIntyre: A former CNN Pentagon correspondent, he used satellite technology to report from the battlefront in Iraq;
Abigail Harper: A NOAA satellite official, she helps to track hurricanes and warn those in harm's way;
DJ "Cousin Brucie" (Bruce Morrow): This legendary rock and roll DJ and Radio Hall of Famer, uses satellite technology to bring rock and roll music to audiences across the country.
Robert Briskman '61: Sirius Satellite Radio co-founder, who created the Sirius Satellite Radio system
Moderator: Emmy-Winning Reporter Holly Morris, of Washington, D.C.'s WTTG FOX 5
WHEN: October 21, 2010
5 to 6:30 p.m. (immediately following the induction of Robert Briskman into the Clark School's Innovation Hall of Fame)
WHERE: Kim Engineering Building Rotunda
A. James Clark School of Engineering
University of Maryland College Park Campus, College Park, MD 20742.
MORE: http://www.eng.umd.edu/white/symposium10.htm
http://www.eng.umd.edu/events/white.html
Published October 20, 2010