ChemE Students Discuss Climate Change Policy on Capitol Hill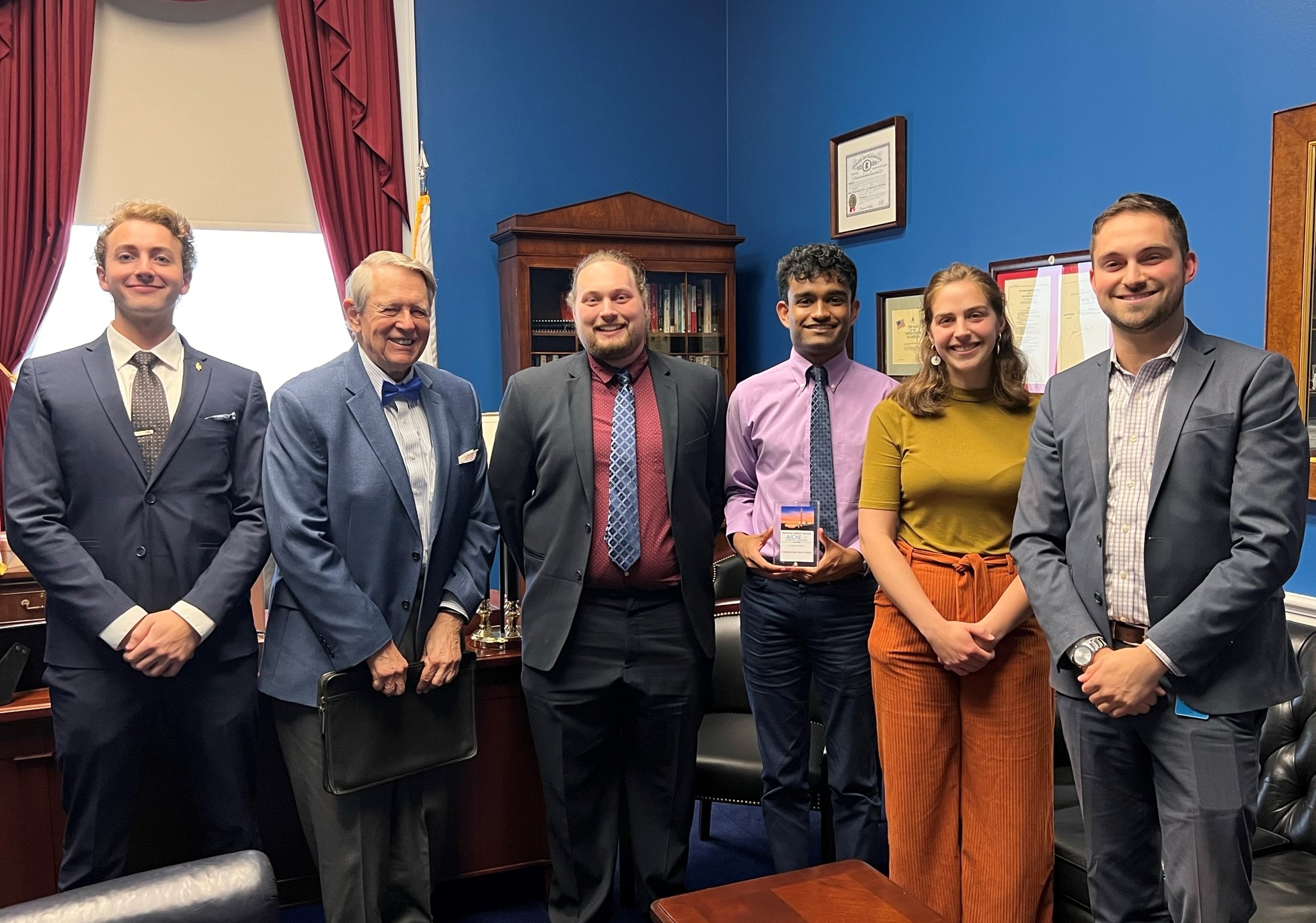 On April 27, four students from the University of Maryland (UMD) Department of Chemical and Biomolecular Engineering (CHBE) paid a visit to the office of Congressman Sean Casten (D) to offer a plaque of thanks in recognition of Casten's presentation at the AIChE National Capital Section (NCS) and Student Chapter.
During the visit, the students – Ben Ruggeri, Aengus Conor Vervier, Andrew Paul and Cassandra Smith – discussed green energy and climate change initiatives with John Lee, Senior Policy Advisor for Energy and Climate issues for Congressman Casten. Ruggeri raised the topic of environmental justice; specifically, the group discussed President Biden's 'Justice40 Initiative,' which is geared towards communities that are directly and disproportionately impacted by pollution.

"It is not an accident that, for example, in Louisiana, all of the chemical plants, smoke stacks, oil and gas production, etc. is next to the poorest communities – wealthy communities have typically been successful in keeping that type of infrastructure out of their backyards – so this is a very real problem requiring financial resources for mitigation and adaptation," said Lee.
Marylanders needn't leave the state to experience this truth. CHBE Professor Akua Asa-Awuku has been working for years to combat unhealthy air quality issues in Brandywine, caused by proximity to power plants (four in the 13-square mile community) and lack of governmental oversight. Thankfully, Casten seeks to change such problems.

"Renewable energy implementation, blue hydrogen, nuclear power, and the student loan debt crisis were just a few of the problems we discussed with Mr. Lee," said Vervier, a senior chemical engineering major. "It was refreshing to hear that at least one member of congress is taking the threat of climate change seriously and is willing to actually enact some meaningful policy changes to help mitigate its impact."
Casten, who represents the 6th district of Illinois, is a climate scientist and clean-energy entrepreneur who ran his own company, Recycled Energy Development (RED), for years prior to taking office. After receiving a master's degree in biochemical engineering from Dartmouth, Casten focused his energy on bringing independent power projects to the grid and was later inspired to run for congress – hoping to positively influence climate change policy – though he'd never before served in public office. Currently, the Congressman serves on a number of committees – including the Science, Space, and Technology Committee and the Select Committee on Climate Crisis – in an effort to combat the climate crisis and protect the planet for future generations.

Although Casten himself was unable to attend the visit due to congressional duties elsewhere, CHBE Professor Nam Sun Wang who arranged the visit with George DeVaux (a ChemE and entrepreneur whom the group met through AIChE NCS), was pleased with the outcome.
"It was such an honor to visit Congressman Casten's office," said Wang. "We were delighted to have such an interesting conversation, and we all learned a lot about public policy and how a science background might assist with government initiatives."
Published May 6, 2022