CEE Students Win Top Awards at Environmental Toxicology and Chemistry Annual Meeting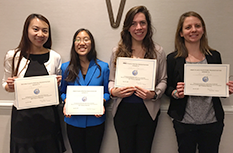 Department of Civil and Environmental Engineering (CEE) students swept the best poster competition at the annual spring meeting of the Chesapeake Potomac Regional chapter of the Society of Environmental Toxicology and Chemistry. The success came on top of CEE-affiliated Sarah Fischer receiving first place for her platform presentation.
A Ph.D. student in the University of Maryland Marine Estuarine Environmental Sciences Graduate Program, Fischer's presentation revealed her discovery of microbes living in the anaerobic digesters of a wastewater treatment plant that feed on certain types of industrial or pharmaceutical compounds—enabling them to break down the chemicals before they enter the environment and negatively impact food webs.
"My background is mostly in chemistry, but I have become interested in the microbes that can accomplish beneficial transformations of problematic chemicals as well," said Fischer, who is advised by CEE's Alba Torrents and works with Birthe Kjellerup. "I hope the work promotes knowledge of ways to treat and reduce the amount of problematic chemicals released to the environment."
First place in the poster competition went to Wing-Mei Ko, a junior in Kjellerup's lab.
Ko, whose interest in harnessing bacteria for sustainable development began with a Gemstone Honors Program project, shared the findings of her search for the best place to incorporate microbial fuel cell (MFC) treatment at the cutting-edge Blue Plains Wastewater Treatment Plant. The emerging technology makes it possible to treat wastewater while also recovering energy, but its effectiveness depends in part on the material it treats.
"We found that the belt press filtrate is good substrate for MFC treatment because it generates significantly higher electric potential than the other locations," Ko explained. "MFC treatment may also be more efficient downstream of the thermal hydrolysis process at Blue Plains because it physically breaks down the organic matter into smaller compounds that are easier for bacteria to convert to electricity."
DC Water's thermal hydrolysis process was also a focal point of Rebecca Hartman's third-place poster. In the fall of 2017, Hartman set out to pinpoint what happens to four plasticizers when they are treated with those high pressures and temperatures in conjunction with the low oxygen conditions of the anaerobic digester. These organic compounds, commonly used to improve the flexibility of plastics, have been shown to negatively impact hormone regulation in animals.
"My study indicates that anaerobic digestion may lead to an increase in plasticizer concentrations in biosolids" said Hartman, who conducted her research with Torrents' lab, "compared to other solids treatment methods."
Second place, however, went to a project far removed from wastewater treatment.
Graduate student Qi Yao was recognized for her investigation into how well trees and other vegetation remove air pollutants emitted by poultry houses. Particulate matter from these operations can cause asthma and other serious health problems when inhaled, while ammonia creates an unpleasant odor.
Her results show that vegetated buffers planted around these houses can reduce ammonia levels by 14 percent and cut back particulate matter by seven percent.
"I am very honored to be recognized at such a respected conference," said Yao, who will graduate with her Ph.D. in June.
Published May 4, 2017