Building on a Childhood Dream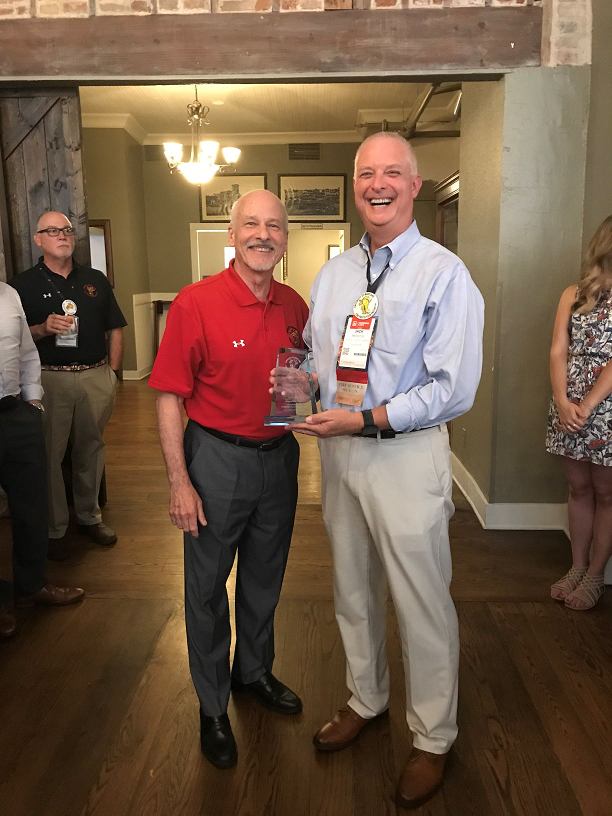 From a very early age, all Jack Medovich (B.S. '83) wanted to be was a firefighter. Raised in upstate New York, Jack recalls riding his bike around the neighborhood, up the street and past the firehouse where his dad served as a firefighter, eagerly awaiting the day he could sign up.
"My dad, however, had other plans for me," said Medovich. "He told me absolutely not - I would go to school and seek out better opportunities for helping people that didn't involve becoming a firefighter."
In high school, while serving as a volunteer firefighter, Medovich was mulling over the vast array of career possibilities. School advisors encouraged him to major in computer science, or programming, but none of their suggestions interested Jack.
"One day I was sitting at the kitchen table in the firehouse talking to my dad about what the school advisors suggested, when the lead training instructor for New York State, Ogden Clark, walks into grab a cup of coffee," Medovich recalls. "He heard us talking and suggested I look into the FPE curriculum at the University of Maryland, and gave me Dr. [John L.] Bryan's number. After a brief phone call with 'Prof,' my dad and I headed to Maryland to check things out, and that pretty much clinched my life's direction."
Like many other FPE students, Medovich lived in a local firehouse during his tenure at UMD. He lived in Prince George's County Station #34 located on Riggs Road in Adelphi. Jack enjoyed the next several years on campus, but not all of his experiences were favorable.
"I once took the ME thermodynamics course with Dr. Marcinkowski because it fit my schedule, yet people in the firehouse kept telling me to drop it because he was known for failing most everyone," Medovich said. "I figured it couldn't be that bad, and stayed the course…. sure enough, Dr. M. ended up failing literally everyone in the course that semester! I did learn a lot from him, which allowed me to pass the CE Thermo class the following semester. The support I received from Drs. Bryan and Hickey was tremendous. Prof was such a fatherly figure - more of a mentor than an instructor - and he really made the Department feel like home. That culture continues today, for sure, under the leadership and direction of Dr. Milke."
In 1997, Medovich, with a partner, started East Coast Fire Protection with two small offices only, in Baltimore and Richmond, Va., respectively. The intention was to keep the business small, serving only the southeast part of the U.S. with a few key people.
"The company grew quickly though, faster than we imagined," said Jack. "We grew organically at first hiring key people in adjacent markets - we added eight offices from 1997-2008 in this manner - and made other large acquisitions in Orlando in 2003, Atlanta in 2007 and Houston in 2008. Things really took off from there. To that end, we decided to give the company a more global brand, and changed the name to Fire and Life Safety America."
With roughly 1200 people in its employ, Medovich currently serves FLSA as the Senior Vice-President. He's also an American Fire Sprinkler Association (AFSA) Board Member, and proud father of four head-strong children who have either just started their post-graduate careers, or are currently in college. A lesser known fact is that Jack is also the founding chair of the Burn Survivors Foundation (BSF) - a Virginia-based non-profit, 501c3 organization devoted to the recovery and healing of burn survivors. The organization supports a camp near Charlottesville, Va., where all children, ages 7 - 17, can attend at no cost whatsoever to their families.
"All applicants are accepted, and firefighters from the Old Dominion Firefighters Burn Foundation transport children to and from their homes, as well as cook for the campers all week long" said Medovich. "This camp is one of the only places these kids can feel comfortable going for a swim, for example, without apprehension, or judgement."
The BSF is funded in part by an annual charity golf tournament, co-sponsored by the AFSA's Virginia Chapter, and hosted at the Williamsburg National Golf Club in Williamsburg, Va. each fall. Jack has been involved with the tournament from its inception – indeed, 2019 marks the 26th year of the event. Charitable donations have exceeded $1,000,000 in the first 25 years of this tournament. In addition to the camp, the BSF donates money to the Old Dominion Firefighters Burn Foundation - a portion of these donations funds a medical fellowship at Virginia Commonwealth University, which allows a physician to obtain an additional year of training focused specifically on burn care.
"This funding is super impactful - literally the only way our surgeons can obtain a 'burn' education in the state of Virigina," said Dr. Michael Feldman, Medical Director of the Evans-Haynes Burn Center at VCU. "We prioritize and work closely with firefighters to ensure our medical team remains skilled in treating burn survivors."
Indeed, people travel to VCU from across the country seeking treatment for fire, chemical and electrical burns.
"Years ago, there was a burn survivor and camper named Logan, whom was asked to attend the tournaments to speak to the golfers during the awards ceremony," recalls Medovich. "At first, Logan was shy and only gave monosyllabic answers to questions, but after a few years, Logan came out of his shell, so much so, that he ended up running the entire awards ceremony while I just watched in amazement."
One year, tournament participant and FPE alum, Phil DeCamera, won the grand prize of a set of golf clubs. DeCamera didn't need them, however, and gave them back for someone else to use. It was decided to have the clubs cut down and presented to Logan, which he happily accepted. Logan went on to try out for his high school golf team and made it. He's currently enrolled in medical school to one day become a surgeon, specializing in burn care.
"It's pretty awesome to step back and see how doing something good for one person turns into a good thing for so many others," Medovich said. "Logan is a reminder of just how special the Burn Survivors Foundation is, and that it touches so many lives! We recently started an investment fund, geared towards the continuation of the Foundation and tournament. The idea is that the program become self-sustaining, so that it can continue helping those in need, long after we are all gone."
This year's tournament will be held on Wednesday, October 16, 2019. For more information, please see www.burnsurvivorsfoundation.org or www.afsavirginia.com. Registration forms are also available in the FPE front office.
Published July 19, 2019