Berry Awarded Sikorsky Aircraft Fellowship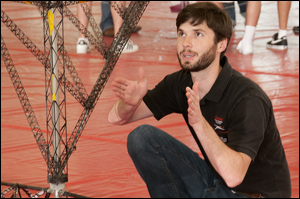 Benjamin Berry is the 2012-2013 recipient of the Sikorsky Aircraft Fellowship. The recipient receives $10,000 toward educational expenses.
Berry completed his B.S. in aerospace engineering at the Clark School in 2004 and his M.S. in aerospace engineering at Georgia Tech in 2006. He returned to UMD in 2008 to pursue his Ph.D. and is currently conducting research related to slow-rotor, high-advance ratio aeromechanics. Berry is a student leader of the record-setting Gamera human-powered helicopter team and a member of the American Institute of Aeronautcis and Astronautics, the American Helicopter Society, the Society for Advanced Materials Processing and Engineering, and Engineers without Borders.
The Sikorsky Fellowship, instituted in 2011, is awarded to a Ph.D. candidate in mechanical, electrical, computer, or aerospace engineering. Sikorsky selects finalists from a pool of nominated students and the winner is then chosen by the Clark School Graduate Advisory Council.
Published September 18, 2012