2012 Energy Research Fellows Announced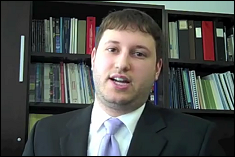 Four Clark School graduate students have won fellowships intended to encourage sustainable energy research across a range of fields including ocean thermal energy recovery, genetics for algae-based fuel production, lithium-air batteries, and solar-thermal processes for renewable fuels. Raphael Mandel, a second-year Ph.D. student in the Department of Mechanical Engineering (ME), and Andrew Quinn, a first-year Ph.D. student in the Department of Chemical and Biomolecular Engineering (ChBE), were each awarded the 2012 Hulka Energy Research Fellowship. Marshall Schroeder, a first-year Ph.D. candidate in the Department of Materials Science and Engineering (MSE), and Will Gibbons, a third-year student in the Department of Chemical and Biomolecular Engineering were each awarded the 2012 John and Maureen Hendricks Energy Research Fellowship.
The Hulka Fellowship supports graduate students engaged in selected fields of alternative energy research, including solar energy conversion, biofuels, wind energy, wave energy, and ocean thermal or geothermal energy. Hulka Energy Research Fellows receive up to $20,000 to complete a one-year personal project distinct from the research they perform for their advisors. Established by the John and Maureen Hendricks Charitable Foundation in 2008 to support the efforts of the University of Maryland Energy Research Center (UMERC), the John and Maureen Hendricks Energy Research Fellowship program supports students engaged in research that advances the frontiers of energy science and technology, particularly forward-looking approaches to alternative energy generation and storage.
Raphael Mandel, (pictured above) advised by Professor Michael Ohadi (ME), received the Hulka Energy Research Fellowship for his proposal, "Next Generation, Ultra-Efficient, Microstructured Thin Film Heat Exchangers for Ocean Thermal Energy Conversion (OTEC)." Through computer modeling and experimental testing, Mandel will be developing a heat exchanger that delivers record heat transfer coefficients with low pressure drops. Through model-based optimization and experimental validation, Mandel expects to design a heat exchanger with minimum materials and fabrication costs to enhance the efficiency of OTEC cycles Interview with Raphael Mandel (video).
"I think these students exemplify the depth and breadth of energy research at the University of Maryland, and I want to thank John and Maureen Hendricks and Barbara Hulka for the opportunity their support has provided."
Andrew Quinn, co-advised by Assistant Professor Ganesh Sriram (ChBE) and Professor Steve Hutcheson in the Department of Cell Biology and Molecular Genetics, will be using his Hulka Energy Research Fellowship to support his research in engineering photosynthetic marine algae to produce advanced carbon-neutral biofuels and chemicals. Quinn's proposed research, titled "Engineering Algae to Produce Biofuels," utilizes a single-cell marine alga called Phaeodactylum tricornutum (Pt) to produce isoprene, a reduced-carbon compound which functions as a critical precursor to biofuels, including true diesel. Interview with Andrew Quinn (video).
Marshall Schroeder, advised by Maryland NanoCenter Director Professor Gary Rubloff (MSE and the Institute for Systems Research), was awarded the Hendricks Energy Fellowship based on his proposal, "Fabrication of a 3-Dimensional, High Aspect Ratio, All Solid-State Lithium-O2 Battery." The battery is a proposed successor with much higher power and energy to weight ratio in comparison to today's lithium-ion batteries, which Schroeder believes are approaching the material limits of further improvements. Interview with Marshall Schroeder (video).
Will Gibbons, advised by UMERC associate director Professor Greg Jackson (ME), has also received the Hendricks Energy Fellowship. Gibbons' proposal, "Low-cost, Durable, and Efficient Materials for Solar Driven Renewable Fuel Production," explores the potential for electrospun ceria-based nanofiber materials for decreasing the temperatures required to make synthetic fuels from solar-thermal cycles. Gibbons' research is focused on cost-effective fabrication strategies for these materials, while improving their cycle-to-cycle materials stability for solar thermal splitting of H2O/CO2 for renewable fuel production. Interview with Will Gibbons (video).
UMERC Director Eric Wachsman expressed congratulations to the students, and acknowledged the contributions of the Hendricks and Hulka families. "I think these students exemplify the depth and breadth of energy research at the University of Maryland, and I want to thank John and Maureen Hendricks and Barbara Hulka for the opportunity their support has provided."
Published March 9, 2012