14 Mtech-affiliated companies named to Maryland's list of 20 hottest innovative start-ups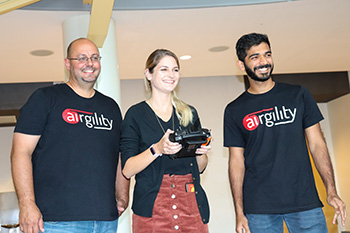 Maryland Technology Enterprise Institute (Mtech) programs have assisted 14 of the companies named to Maryland's Future 20, a recent list of innovative startups from various industries that have the potential to be the state's next major business success story.
Announced by Governor Larry Hogan in celebration of National Entrepreneur's Day, Maryland's Future 20 is part of Innovation Uncovered, an ongoing initiative by the Maryland Department of Commerce to highlight the state's talented innovators, entrepreneurs, and growing small businesses. The search for the Future 20 garnered 125 nominations from the business community and general public. The list was selected based on a variety of factors, including innovation, future growth potential, the company's Maryland story, and "wow" factor.
Mtech, an institute of the A. James Clark School of Engineering at the University of Maryland, is dedicated to entrepreneurship education, helping entrepreneurs launch successful technology ventures, and connecting Maryland-based companies with university resources to help them succeed.
Four Mtech Ventures incubator portfolio companies made the list:
Seven Maryland's Future 20 companies have received Maryland Industrial Partnerships (MIPS) project awards. They include:
One Maryland's Future 20 company resides in the Technology Ventures Building (TVB), Mtech's second-stage incubator facility.
Ten Maryland Future 20 companies have participated in either a DC I-Corps or UMD I-Corps cohort.
Published January 13, 2021