Sirius Satellite Radio Co-Founder to be Inducted into Clark School Innovation Hall of Fame
Alumnus Briskman Returns to Campus for October 21 Celebration
FOR IMMEDIATE RELEASE October 14, 2010
CONTACT:
Melissa Corley
301 405 6501
mcorley@umd.edu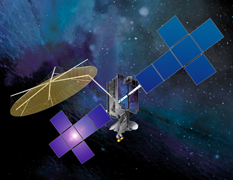 here
)">Release Image
here
)">Release Image
here
)">Release Image
here
)">Release Image
here
)">Release Image
here
)">Release Image
COLLEGE PARK, Md.--Fresh from his latest satellite launch in Kazakhstan, Robert Briskman, co-founder of Sirius Satellite Radio, will return to the A. James Clark School of Engineering on the University of Maryland, College Park, campus on October 21, 2010, at 4:30 p.m., to be inducted into his alma mater's Innovation Hall of Fame.
"Like many Innovation Hall of Famers, Rob Briskman has not only developed an exceptional technology--in this case satellite radio--but also launched a successful company to bring it to market," said Clark School Dean Darryll Pines. "Inspired by Rob's induction, students now in our labs and classrooms might one day attain similar success. That's why we have the Innovation Hall of Fame."
Briskman will be inducted for creating the innovative technologies, formally known as Satellite Digital Audio Radio Service (SDARS), that enable efficient satellite transmission of continuous radio programming to mobile and fixed receivers. Operational across the continental U.S. and much of Canada, SDARS satellites broadcast a digital signal in the radio-frequency band around 2332 MHz, primarily to small mobile receivers in automobiles that convert the signal to analog audio. The system achieves near perfect availability across enormous geographical areas, using ground "repeaters" to complete communications in the less than one percent of the service area without clear satellite coverage.
The success of SDARS depends on maximizing the strength of the signal that reaches the earth, which in turn depends on satellite transmission power, the elevation angle of the signal and other factors. During 1996-2000, Briskman designed and built three of the most powerful commercial broadcast satellites of the time, each producing two megawatts of radiated power, and launched them into a "figure 8" geosynchronous orbit over the Americas. Briskman devised this unique elliptical orbit to achieve the highest possible elevation angle of the satellites to the mobile receivers, minimizing signal outages.
To build and implement the service, Briskman co-founded Sirius Satellite Radio. The result was the first major development in radio in decades, providing subscription-based, advertising-free radio programming that was consistent across the country. Today the company, headquartered in Manhattan's Rockefeller Center, claims 19.5 million subscribers in the U.S. and double-digit revenue growth over the second quarter of last year. Sirius is well known for its famous entertainers, including Howard Stern, Martha Stewart, Bob Dylan and Tom Petty.
A Challenging Journey
Briskman remembers working with a slide rule and an HP-35 calculator to solve complicated engineering problems five decades ago during his graduate school days at the Clark School. His journey from there to Sirius has been highly rewarding, but was also challenging. For some five years, he balanced graduate school with raising a family and working full time, initially with the intelligence community and then at NASA. His work at NASA dovetailed with his master's thesis topic: deep space communications.
Briskman credits one of his professors, Henry Reed, for helping him through his degree.
"He communicated complex ideas in a way that made them easy to understand," Briskman said. "That is a remarkable skill."
From 1959 to 1963 Briskman served as chief of program support for NASA's Office of Tracking and Data Acquisition, where he invented the unified S-band system and received the Apollo Achievement Award. For the next two decades, he worked for Communications Satellite Corporation and then COMSAT General Corporation, where he was vice president of systems implementation. He was senior vice president of engineering for Geostar Corporation from 1986 to 1990.
Briskman's career took a sudden turn in 1991, when he became a first-time entrepreneur, co-founding Sirius Satellite Radio, now Sirius XM Radio, where he is technical executive.
"All of my previous efforts were for large commercial and government organizations," Briskman said. "Starting Sirius was the only feasible way to get this new service launched."
Briskman has received numerous honors, authored more than 50 technical papers (including most recently, "Measured Satellite and System On-Orbit Performance Versus Implementation Targets for a SDARS Hybrid Constellation"), and holds many U.S. and foreign patents.
The Clark School's Innovation Hall of Fame recognizes Clark School alumni, faculty and associates who have pioneered many of the most significant engineering advances in the past century. For more information, visit www.eng.umd.edu/ihof. Immediately following his induction, Briskman will participate in the 2010 White Symposium, titled "Search and Rescue, War Reporting, Hurricane Tracking and Rock and Roll in the Satellite Age." For more information, visit www.eng.umd.edu/white/symposium10.htm.
Innovation Hall of Fame Induction Details:
Date: Thursday, October 21, 2010
Time: 4:30 p.m.
Location: Innovation Hall of Fame
First Floor, Jeong H. Kim Engineering Building
University of Maryland, College Park
More Information: Clark School Innovation Hall of Fame
More on Robert Briskman
Charles and Helen White Symposium e-vite
White Symposium homepage

About the A. James Clark School of Engineering
The University of Maryland's A. James Clark School of Engineering is a premier program, ranked among the top 20 in the world. Located just a few miles from Washington, D.C., the Clark School is at the center of a constellation of high-tech companies and federal laboratories, offering students and faculty access to unique professional opportunities.
Our broad spectrum of academic programs, including the world's only accredited undergraduate fire protection engineering program, is complemented by a vibrant entrepreneurial ecosystem, early hands-on educational experiences, and participation in national and international competitions.
The Clark School is leading research advancements in aerospace, bioengineering, robotics, nanotechnology, disaster resilience, energy and sustainability, and cybersecurity. From the universal product code to satellite radio, SMS text messaging to the implantable insulin pump, our students, faculty, and alumni are engineering life-changing innovations for millions. Learn more at www.eng.umd.edu.