Clark School Team to Fly Revamped Gamera II Human-Powered Helicopter
Larger Space to Allow for Longer, Higher Flights
MEDIA ADVISORY August 27, 2012
CONTACT:
Melissa Corley
301 405 6501
mcorley@umd.edu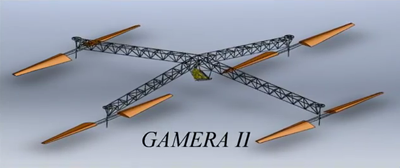 UPDATE: Due to pilot availability, the flight schedule for Thursday is now 9-10:30 a.m. and after 1 p.m.
On Tuesday, the team managed a 65-second flight (within the ten square meter area) and, during a separate flight, managed to hit eight feet in elevation (the Sikorsky Prize requires 10 feet). These flights are very dramatic and the team is getting so close to putting it all together.

FYI, this week, not only is the Gamera team flying, but a competitve team in Toronto also is flying their vehicle, adding an international angle to this competition.
Above: 65-second Gamera flight on August 28, 2012.
WHAT: A team of A. James Clark School of Engineering students will fly a modified version of their human-powered helicopter, Gamera II, in a much larger space than in previous flight attempts. Gamera II is an improved version of Gamera I, which last year set world records for flight duration. Like Gamera I, and the previous version of Gamera II, the craft to be flown this week is an enormous hand- and pedal-powered X-shaped vehicle that has four rotors and is 114 feet across diagonally. Gamera II weighs only 76 pounds and features enhanced rotor design, an improved transmission and a redesigned cockpit. The team expects that Gamera II is capable of flights lasting longer than 60 seconds, a major step towards competing for the Sikorsky Prize and remaining ahead of competitors. Learn more about Gamera II here: http://www.agrc.umd.edu/gamera/gamera2/index.html

WHO: A team of more than 40 graduate and undergraduate students led by faculty advisors V.T. Nagaraj, Inderjit Chopra, Gordon Leishman and Darryll Pines (dean of the Clark School, one of the nation's top rotorcraft research institutions). This year, there are three pilots participating in the flights: Henry Enerson, Kyle Gluesenkamp and Colin Gore. All three are UMD staff or students.

WHEN: Reporters and photographers are invited to watch the team test the vehicle between 9 a.m. and 10:30 a.m. and 1 p.m. 5 p.m. on Thursday, August 30.

WHERE: The team will be flying in a new, much larger space that will allow for the vehicle to drift farther (and hence potentially fly longer and higher) than in previous flights:
The Prince George's Sports & Learning Complex
8001 Sheriff Road, Landover, MD 20785
Directions

WHY: The team has been working for three years to compete for the Sikorsky Prize, offered by the American Helicopter Society. The Clark School team is one of at least three teams planning to attempt flights this summer. No team has succeeded since the prize was first offered in 1980.


More Information:
Watch a video about Gamera II
70-Second Tethered Flight Video
Gamera web site
Gessow Rotorcraft Center
Sikorsky Prize
About the A. James Clark School of Engineering
The University of Maryland's A. James Clark School of Engineering is a premier program, ranked among the top 20 in the world. Located just a few miles from Washington, D.C., the Clark School is at the center of a constellation of high-tech companies and federal laboratories, offering students and faculty access to unique professional opportunities.
Our broad spectrum of academic programs, including the world's only accredited undergraduate fire protection engineering program, is complemented by a vibrant entrepreneurial ecosystem, early hands-on educational experiences, and participation in national and international competitions.
The Clark School is leading research advancements in aerospace, bioengineering, robotics, nanotechnology, disaster resilience, energy and sustainability, and cybersecurity. From the universal product code to satellite radio, SMS text messaging to the implantable insulin pump, our students, faculty, and alumni are engineering life-changing innovations for millions. Learn more at www.eng.umd.edu.