Zhang's CAREER Award Supports On-Time Arrival Research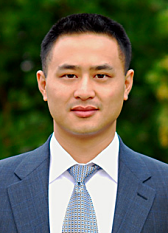 Clark School civil engineering assistant professor Lei Zhang has been awarded a National Science Foundation Early Faculty Career Development (CAREER) Award for "Reliabiltiy as an Emergent Property of Transportation Networks."
According to the project abstract, the research seeks to "investigate how individual travel behavior (e.g., route choice, trip scheduling, and selection of transportation mode) and transportation-related organizational decision-making (e.g., investment and pricing decisions) impact travel reliability (percentage of on-time arrival at destination)."
The research would lead to tools transportation agencies can use to assess strategies that induce individual and organizational behavioral changes (e.g., increased transit ridership, improved trip departure time choice, better route diversion decisions, and more cost-effective transportation investments) that could mitigate traffic congestion and improve travel reliability.
The CAREER Award is the NSF's most prestigious award in support of junior faculty who exemplify the role of teacher-scholars through outstanding research, excellent education and the integration of education and research.
Published February 24, 2012