Undergrads Showcase Innovative Sustainability Design Ideas Developed in New "Energy 101" Course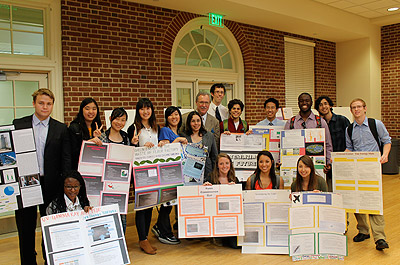 An open house and poster session for a new University of Maryland (UMD) course on sustainability designed by faculty from the Clark School of Engineering and the College of Education was held on May 9 in the Stamp Student Union. The course, titled Designing a Sustainable World (BioE 289A), was co-developed and taught by Dr. Leigh Abts and Dr. Idalis Villanueva, and is a UMD "I-Course," open to students of all majors. Designing a Sustainable World is intended to serve as a model for a new national energy curriculum designed to help undergraduates address the array of energy challenges facing the country.
The course is part of a new curriculum called 'Energy 101,' a unique, interdisciplinary curriculum comprised of group projects and educational modules that federal officials and education leaders hope will be used at colleges and universities around the country. The initiative is a result of the collaborative efforts of UMD, the Association of Public and Land-grant Universities (APLU), the U.S. Department of Energy (DOE), and the Environment and Energy Study Institute (EESI). The course material is designed to challenge college students across the country to systematically explore the science and social science issues behind sound energy decision-making and to teach them to apply those skills to workplace and personal decisions. When DOE unveils the national curriculum next month, the Designing a Sustainable World course will be highlighted as a case study on how other universities may align their Energy 101 version to a curricular framework based on standards.
"The course is intended to provide a general education experience where the students create a meaningful design to address a critical issue in energy and/or sustainability," explains Abts, a UMD Research Associate Professor jointly appointed in the Fischell Department of Bioengineering and the Department of Teaching and Learning, Policy and Leadership. "The course encourages students to 'take a Leonardo Da Vinci approach,' to 'think out of the box' and apply basic design tools to map out and explore solutions, ... and to be life-long innovators."
Students in the course were given the task of coming up with concept inventions to increase sustainability in different aspects of life. The students presented their final project poster in the Prince George's Room at the Adele H. Stamp Student Union.
The class was comprised students pursuing many different majors, from engineering to education, so the professors had to come up with a way to balance the teaching to pertain to each student equally.
According to Villanueva, she and Abts taught the students ways to prevent global warming and different sustainable energies that can be used to do so. However, the students had to come up with their own, original project ideas.
"No idea was rejected," said Villanueva. "We just asked them to prove that the idea would work, and then it was up to the students if they wanted to go through with it or not."
The students were asked to log their progress throughout the semester in a personal portfolio. Progress, according to Villanueva included both successes and failures. "Finding out what doesn't work can be just as important as finding out what does work."
Posters at the event included concepts such as green gyms that could be powered by energy produced from exercise equipment, sustainable floor plans for sporting arenas, water-powered watches, photosynthetic solar panels, and reusing wastewater from households to power appliances, such as microwaves and toaster ovens.
"I hope the students have been able to learn how to take knowledge of energy and sustainability, and use different techniques to make a decision related to anything from planning for their local community to looking at their homes and thinking about what they might do to improve energy use," said Abts. "This is a course about critical thinking and making informed decisions based on knowledge that you gain about energy."
The class, as well as the open house event, proved successful, the course will be offered again next spring semester.
More on BIOE 289A Student Poster Presentations:

Carly Cheng
Freshman, Biochemistry
Her project was an artificial tree that is able to use solar energy for biofuel production.
"I'm a biochemistry major, so design is not my strong point. I never thought I could create a[n engineering] design, and one as specific as I did. By the time I finished I thought, whoa, I've accomplished a lot…it's definitely changed my thoughts. Maybe I could be an inventor someday, maybe if I do research, in the future I could actually create this prototype, or maybe work with the technology needed to convert CO2 into biofuel."
Natalie Tham
Freshman, undeclared, planning to apply to engineering
Her project was to create a more efficient toilet and under-house processing unit that handles some of the waste processing locally, reducing the amount of water needed to flush and the burden on sewage treatment plants, and reuse the waste as fertilizer.
"Sustainability has always been something I've been interested in. My high school had a big focus on the environment and I thought it would be interesting to mix sustainability and engineering. I really liked the initial part of the class where we were figuring out what we wanted to do [for our projects] and researching a topic. I got pretty interested in sanitation issues in the Third World, then tailored my design to be implemented at the University of Maryland."
Andrew Lebowitz
Junior, architecture
His project was a "green gym" where electricity could be generated by the people exercising on its equipment. He explored how energy could be harvested/converted from a variety of equipment, including force from step cardio and lifting weights, as well as stationary bikes or treadmills.
"The reason I decided to do this project was to find a way to find electricity to power [buildings] while lowering our carbon footprint. A lot of energy is produced when we exercise, but most of that energy just goes to waste, because there's nothing to collect it. The reason I decided to take this class is because I wanted to find a class that fits my background. I'm majoring in architecture, and I deal with sustainability issues. So I felt like coming to this class was going to give me an idea of how we can find ways to help the environment and communities. Why not try to do something different, that not many people are used to seeing? That's why I chose powerless gyms."
Raza Haqqi
Sophomore, undecided, considering engineering
His project was a "Piezowheel" that converts mechanical force to electricity for cars that would power various systems, such as the stereo, power seats and A/C, decreasing the amount of gas needed and increasing fuel efficiency.
"Considering I'm planning on going into electrical engineering, since I want to be in the field, I figured it would be good for me to look at sustainability and learn more about it because it might be an [important] issue in my future. I figured if I started thinking about it now, it will give me an advantage later on."
Jenna Ryan
Junior, elementary education major
Her project was about creating a tablet system that maintains the interactive feel of paper-and-pencil workbooks and projects but allows students to complete and turn in their assignments digitally.
"Right now, there are 28 pounds of paper used per student, teacher and staff member in a New York City classroom each school year. I want to take paper out of the classroom. All of the worksheets for the day need to be in an electronic form. The teacher can download them to a tablet-like device [on which] the students can do their work by hand and then send it back to the teacher."

Christopher Neely and Faye Levine contributed to this article.
Published May 24, 2013