UMD Team Wins First Place in MaxTech Competition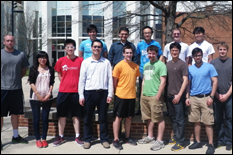 For the second straight year, a team of University of Maryland (UMD) students advised by Dr. Yunho Hwang, associate director of UMD's Center for Environmental Energy Engineering, has won the Max Tech and Beyond Design Competition for Ultra-Low-Energy-Use Appliances and Equipment. The team, UMD Dryer, received the first place gold medal for developing an energy saving, two-stage heat pump clothes dryer.
Current residential electric clothes dryers consume about 71 TWh per year in the U.S., which is approximately four percent of total annual residential electricity use (USDOE EIA, 2010).
Unlike most appliances, clothes dryers are not currently listed in the ENERGY STAR® database since most models consume similar amounts of energy. Electric powered and gas fired clothes dryers dominated the U.S. residential market in 2010 with market shares of 79 percent and 21 percent, but heat pump clothes dryers have only recently been emerging in the European and Japanese markets.
Heat pump dryers typically consume about one-third less energy than conventional electric and gas-powered clothes dryers, but the UMD team's two-stage heat pump dryer may improve energy savings another 10 to 20 percent over the average European heat pump clothes dryer, and 40 to 46 percent over the average U.S. electric dryer.
According to Hwang, his students were "really interested in improving energy efficiency, more than just taking a class." Students on the team spent extra lab hours and weekends working on constructing the dryer prototype and testing.
"Our students are terrific," said Hwang. "Our team success stems from our talented students, who are eager to tackle engineering challenges, and from the support of our department chair, graduate office, undergraduate office, and CEEE staff. I greatly appreciate all of their efforts and support."
As part of their win, the team will have the opportunity to showcase their prototype at the Solar Decathlon being held October 3-13 2014 in Irvine, Calif.
The student team was led by Tao Cao and included students Zhang Zhilu, Peter Wadeson, Richard Sams, Abbad Malik, Jeffrey Sze, John Calderone, Thomas Magnuson, Thomas Busch, Alexander Kim, Alan Louie, Lin Xiaojie, Peng Cong, Peter Anto, Amer A. R. Charbaji, Laeun Kwon, Ning Yang, and Xinchen Liu.
The UMD team will be funded for another year, and interested students can participate by signing up for the Department of Mechanical Engineering ENME 489M class, Ultra Low Use Energy Appliance Design.
The Max Tech Design competition supports faculty-led student design teams at U.S. universities to design, build, and test ultra-efficient product prototypes to reduce energy consumption in buildings and/or prototypes that greatly reduce the cost of such ultra-efficient products. The dual objectives of the competition are to support the development of next-generation prototypes as well as the next generation of scientists and engineers who will design them.
For more information on Dr. Hwang and his research, visit his web page.
For more information on Team Dryer and their energy efficient dryer, visit their team page on Max Tech's website.
Published September 3, 2013