Tom Jacobs Named New CATT Director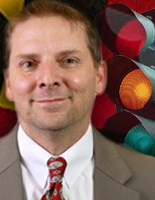 Tom Jacobs has been named the new director of the Department of Civil and Environmental Engineering's
Center for Advanced Transportation Technology (CATT)
.
Jacobs has more than 18 years of professional experience in the areas of program and project management, traffic engineering, Intelligent Transportation Systems, and Management and Operations. He has been with the Center of Advanced Transportation Technology since 1999 and in that time has led the Capital Wireless Information Net Program, overseen development of the Center for Advanced Transportation Technology Transportation Lab, provided ongoing assistance to various Maryland State Highway Administration initiatives, and participated in numerous National Cooperative Highway Research projects.
Jacobs has expertise in traffic incident management, regional information systems, systems engineering, mobile data communications, performance measures, integrated corridor management, commercial vehicle operations, distance learning, technology transfer and planning for operations.
In his capacity as the director of CATT, Jacobs will also direct the Technology Transfer Center that is now integrated into CATT operations.
Published January 30, 2009