Remedium Wins $10K in Global Security Challenge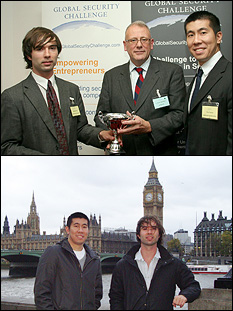 Remedium Technologies, Inc., a startup company whose founding and present members include graduate students, postdocs, faculty and alumni from the Fischell Department of Bioengineering (BioE) and the Department of Chemical and Biomolecular Engineering (ChBE), received the "Most Promising Security Idea" award in the 2009 4
th
Annual Global Security Challenge (GSC). The GSC provides an international forum for inventors, investors, and start-up companies to launch solutions designed to protect people, infrastructure, and enterprises without infringing on civil liberties.
Remedium CEO Matthew Dowling and CTO Peter Thomas (both graduate students, BioE) traveled to England to accept the award at the Global Security Summit, held at the London School of Business on November 19. This is the latest in a series of business competition wins, awards and honors Remedium has received over the past two years.
The award includes a $10,000 grant sponsored by Accenture, an international consulting, technology, and research company; mentoring from Mark Shaheen, managing director of Civitas Group, which provides advising and investment services for companies involved in local and national security; networking opportunities; and publicity.
The young company, selected out of a field of over 100 competitors from around the world, was recognized for a new product made with its haemostatic (blood clotting) technology that takes the form of a foam that can be applied to non-compressible wounds.
"A non-compressible injury is one that isn't going to be helped by a dressing and simple direct pressure," Dowling explains. "–for example, a large, oddly-shaped shrapnel wound in the abdomen. 90% of bleeding deaths are caused by these kinds of injuries, and there are currently no products available to effectively treat them. Our new product is a lot like a can of shaving cream—when you spray it into a wound, it becomes an expandable foam, fills the space, and stops the bleeding without using any pressure. It doesn't require any special training to use so it can be distributed to soldiers, paramedics, or civilians for emergency or mass casualty situations."
Remedium was encouraged to enter the GSC competition by Jim Chung, Director of the Maryland Technology Enterprise Institute's (Mtech) VentureAccelerator Program, which assists University of Maryland-based companies with business planning, market analysis, recruiting, and raising capital.
Dowling is proud of Remedium's accomplishments: "At this point in time, Remedium is a real company, really trying to do something that will fit an obvious need." While the award will help the company on its way, he feels the opportunity to attend the Global Security Summit was just as important: "At the Summit, we were able to make new contacts with potential investors, government officials, and press representatives on an international scale in a single day. That's a remarkable opportunity for a startup! We're truly honored to have won our category and all the more determined to turn our idea into a commercial reality as quickly as possible."
"The trip to London was amazing," says Thomas. "The opportunity to compete in the Global Security Challenge and attend the summit was a tremendous experience. I think the competition highlighted how some of the most innovative technological ideas come from start-up companies born in university settings. We're very excited that the judges shared our enthusiasm for solving the problem of treating severe bleeding injuries—it really reinforces our excitement about it, too."
Remedium CMO and postdoctoral research associate Oluwatosin Ogunsola (Department of Chemical and Biomolecular Engineering) agrees. "Winning this kind of award, on an international stage, really validates everything we've been working toward," she says.
Currently, the Remedium team is conducting preliminary testing of the foam and designing a prototype dispenser. Ogunsola is researching FDA approval pathways and conducting customer analysis, while Thomas has been performing a competitive analysis. The team has also applied for a Federal Small Business Innovation Research grant. They estimate that the foam, which still requires pre-market approval, could be on the market by 2013.
All of Remedium's past and current members have been advised by or worked for its Scientific Co-Founder and advisory board member, ChBE associate professor Srinivasa Raghavan. Raghavan is the director of the Complex Fluids and Nanomaterials Group laboratory, where the research behind Remedium's products is carried out.
Each year, Global Security Challenge LLP awards over $500,000 in grants to help develop promising security solutions through a series of business plan competitions with themes such as energy storage and cyber security. The GSC is supported by companies including Accenture, BAE Systems, Blue Star Capital, Control Risks, the London Business School, ONR Global, Smiths Detection, TSWG and UKTI.
For More Information:
Visit the Remedium Technologies web site »
Visit the Complex Fluids and Nanomaterials Group web site »
Read the Mtech Press Release »
Visit the Mtech VentureAccelerator web site »
Visit the Global Security Challenge web site »
Read the Global Security Challenge press release (PDF) »


Published November 24, 2009