Radermacher to Receive Distinguished International Service Award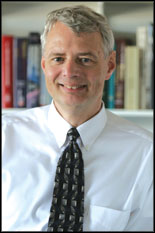 Minta Martin Professor and Center for Environmental Energy Engineering (CEEE) Director Reinhard Radermacher will receive the University of Maryland's Distinguished International Service Award at UMD's International Awards Ceremony on November 14 at the Stamp Student Union.
As director of CEEE, Radermacher has won sponsorships from companies throughout Asia, Europe and South America that have resulted in $24 million in research support, 11 patents and more than 300 peer-reviewed and conference publications. He is a guest professor at Shanghai Jiao Tong University and conducts research projects with the university along with the University of Trento, Italy. He has also conducted joint research projects with the Petroleum Institute in Abu Dhabi, United Arab Emirates, which has a long-term cooperative agreement with the university.
Radermacher has led an international exchange program for the A. James Clark School of Engineering for more than 20 years. This program initially brought students from Radermacher's native Germany to the Clark School, but has since expanded to include interns from colleges in Brazil, China and France. The program has become so popular that the Department of Mechanical Engineering has become one of the leading sponsors of interns on campus.
Radermacher is not the first in the department to receive the award. Previously, Professor Michael Pecht received the honor in 2006. Jan V. Sengers (chemical and biomolecular engineering) also is a past recipient of the honor.
For more than 20 years the Office of International Programs has honored faculty or staff who have a distinguished international career and has made at least one significant contribution to the development of international institutional programs for the university.
Published October 23, 2012