Pines Invited to Speak at Platform Summit Event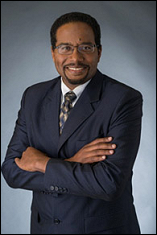 Clark School Dean and Farvardin Professor of Aerospace Engineering Dr. Darryll Pines was invited to speak at the inaugural Platform Summit July 12-14, a special event featuring 30 distinguished speakers and innovators, primarily from underrepresented groups, with an invitation-only audience of 300 influential business and thought leaders across diverse fields. Hosted at the Massachusetts Institute of Technology (MIT) Media Lab in Cambridge, Mass., the Summit showcased unique insights on innovation and the pioneering work being developed by the presenters.
The Platform Summit addressed five topics related to innovation: 1) Failure: The Surprising Critical Ingredient of Success; 2) Culture: the Frenemy of Innovation; 3) Learning the Fearlessness of Invention; 4) Where do New Ideas Come From?; and 5) Meeting the Money People. Dean Pines spoke as part of the session on Learning the Fearlessness of Invention.
Other speakers at the event included Massachusetts Governor Deval Patrick, Broadcaster Tavis Smiley, and Musician and Producer Quincy Jones, among others. The event was sponsored by Google and the S. Ahmad-Llewellyn Family Foundation.
For more information about the Platform Summit, visit: http://platform.org.
Published July 18, 2013