Min Wu Named Distinguished Scholar-Teacher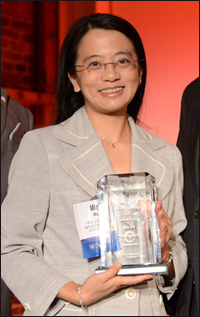 Professor Min Wu (Electrical and Computer Engineering/UMIACS/ISR), has been selected as a 2013-2014 Distinguished Scholar-Teacher by the University of Maryland.

The Distinguished Scholar-Teacher program recognizes faculty members who have demonstrated outstanding scholarly achievement along with equally outstanding accomplishments as teachers. Nominees for the award are selected by their peers; the winners are chosen by a panel of former Distinguished Scholar-Teachers. The Scholar-Teachers bring a passion for learning to their colleagues and students, and serve as models of what a professor at a fine research university should be. Winners receive a cash award to support instructional and scholarly activities, and make a public presentation in the fall semester on a topic of scholarly interest. There were five faculty awardees this year.
Prof. Wu was also honored as a 2012 Maryland Innovator of the Year, for "A Novel Timestamp for Visual Recordings," her invention that can authenticate when and in which geographic region an audio/visual recording was captured. This technology will also allow users to determine if a recording has been tampered with or edited in any fashion, and determine if a visual track and a sound track were captured at the same time or combined after the fact.

The Innovator of the Year awards are sponsored by the Maryland Daily Record.


Published February 7, 2013