Maryland Students Win First Major League Hacking Championship, Awarded Trophy at Ceremony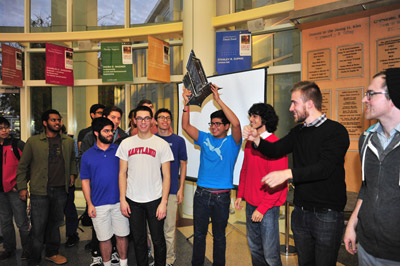 COLLEGE PARK, Md. -- University of Maryland students hoisted the inaugural U.S. Major League Hacking (MLH) Championship trophy, last week. A newcomer to hackathons, UMD beat out Rutgers, long-time hacking heavyweights MIT, Carnegie Mellon, Columbia, Michigan, and Stanford and more than 100 other schools in MLH's first season.
University of Maryland Clark School of Engineering students in the Electrical and Computer Engineering Department won the MHacks event at the University of Michigan earlier this fall for their intelligent trashcan that can sort trash from recycling.
During the first half of the fall semester, more than 200 different Terrapin Hackers competed in at least one of five MLH designated hackathons—24 to 96 hour events in which students create or 'hack' a software or hardware project from scratch. This is hacking in its best and most original sense of creating playful, innovative programs or technologies, rather than breaking into computers.
In an end of the season blog, MLH Commissioner Swift said: "I'm proud to announce that the Terrapin Hackers have officially claimed the title of Fall 2013 Hackathon Season champions and a spot on the list of best schools for hackers." On November 6, Swift presented the trophy to the team in a ceremony on the UMD campus.
UMD took the championship by tying with Rutgers for tops in merit points and surpassing all schools in participation/presentation points. UMD overcame the substantial "home field" advantages of MLH hackathon hosts Rutgers, MIT, Michigan, NYU and University of Pennsylvania. MLH hackathons are organized and run by students with financial backing by tech companies who more and more are using such competitions as prime recruiting grounds.
"We placed first at two of the five hackathons," said Terrapin Hackers leader Shariq Hashme, a UMD junior majoring in computer science and electrical & computer engineering. "That's really, really good. It can't be a fluke. We are on to something."
Although UMD's computer science and electrical and computer engineering departments have long been among the nation's top programs for years, UMD students are largely new to hackathon participation.
"We came out of nowhere," said Hashme. "University of Maryland students generally didn't go to hackathons until last spring. These other teams had been going for years."
Although most Terrapin Hackers are computer science and/or electrical and computer engineering students, students from a number of other disciplines, including physics and biology also participated. The Terrapin Hackers are led by Hashme, together with senior computer science majors Ivan Melyakov and Diego Quispe and sophomore computer science major Kunal Sharma. Together, the four students organized transportation and helped with hackathon registration for their UMD group members. The Terrapin Hackers took busses, cars and even planes in order to participate in the five MLH hackathons.
Hacking the Future

"The hacker culture is driving innovation," said Terrapin Hacker advisor and coach Bryan Quinn, whose UMD titles include associate director of the Institute for Research in Electronics & Applied Physics and director of the Maryland Educational & Sustainable Activities (MESA) Projects.
"There is a reason these hack-a-thons have so many [company] sponsors. These events are where the next big idea is going to come from and they want to be in on it," said Quinn.
According to the college students who organize and attend hackathons, and the companies who sponsor them, these events are far better than career fairs as a way for students and companies to connect.
"Say goodbye to the career fair. Software is Eating the World and all the best companies are recruiting at hackathons," says Dave Fontenot, Founder @MHacks. "Companies recognize that hackathons have one of the best natural filters for talent — regardless of major or university, these students are spending their weekend building out their own ideas… Companies and VCs like A16Z, Twilio, Facebook, Google, Apple, and more are on top of their hackathon game."
Competition AND Collaboration

According to students who organize hackathons, non-participants are often surprised by how much collaboration takes place among teams from different schools. "It's generally a very collaborative atmosphere," said Hashme. "It's not competitive, even though you want to win, of course. Every now and then a team comes along that is really, really competitive. They generally don't do very well. They don't realize that you really need other people's help if you want to win anything."
Major League Hacker Standings: http://mlh.io/standings/
Published November 11, 2013